My favorite gravel bicycle routes in New England.
The majority are hard packed dirt & stone dust, comfortable with 32–35mm tires. There is always the occasional rocky rooty sections. These should be short connections.
There are some route ideas that I have not explored yet. I do not know their surface condition, equipment required, or valid route map. Use at your own risk.
This post complements three others for:
Index
This selection & more available on CRW gravel library.
Maps
I used a variety of sources to find these routes. Many were from friends. Others confirmed via one or more of these maps:
Across Lexington
Mixed terrain on local trails: single track, paved paths, roads, & double track routes. All within Lexington town limits.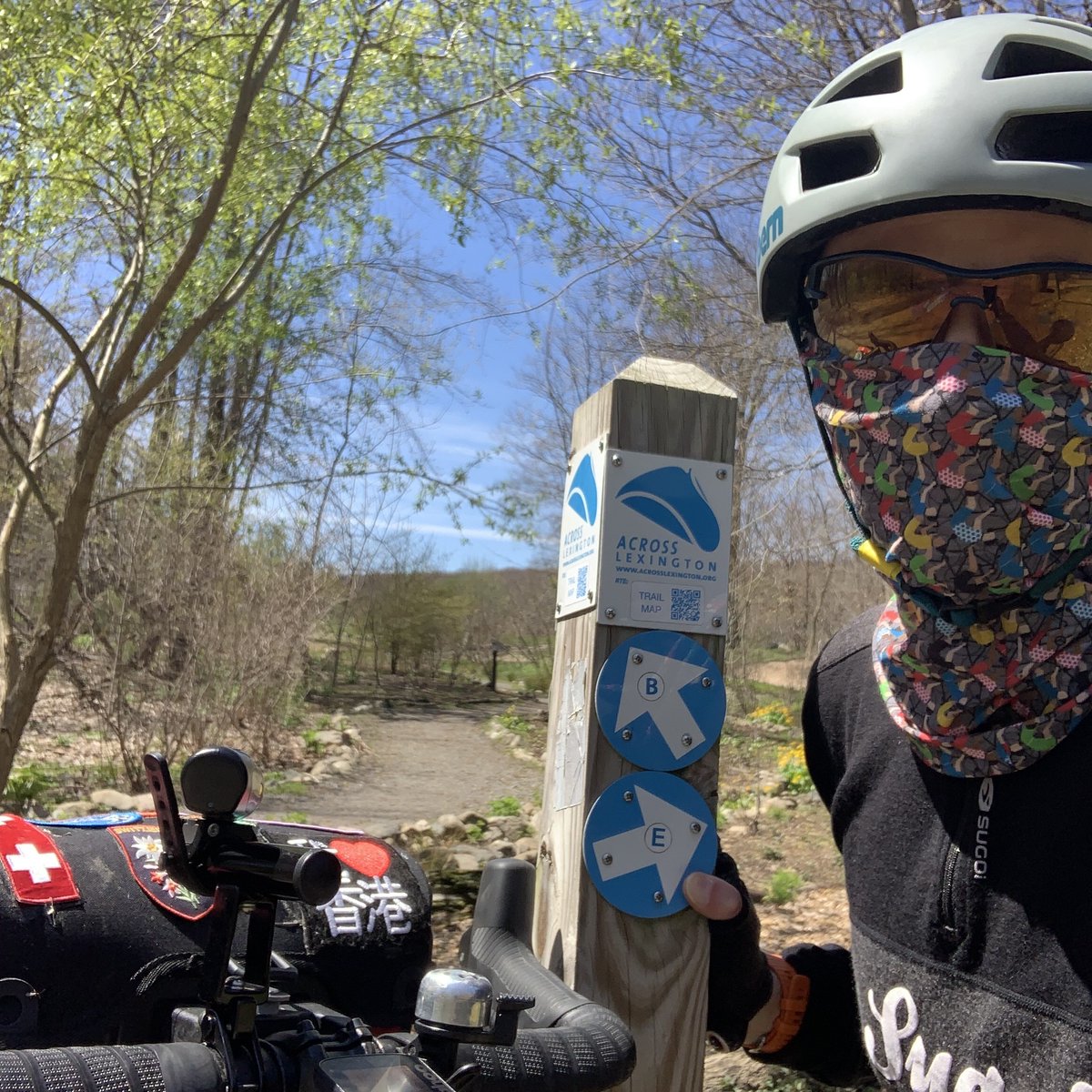 Recorded 2 May 2020 13:20 on Garmin & Strava ➡️60.17km ⬆️589m ↗️9.8m/km ⏬KML & GPX:
These loops, one or combination of them, are excellent trail running options.
Nearby trails to explore:
Minute Man
Revolutionary war tour starting at Lexington Green to Battle Road through Minute Man National Park. Continue to Concord town center for ice cream at Bedford Farms, rest at Concord green, books at Concord library, history at North Bridge, or lunch at Trail's End café. Across the street is a trail to Bedford that connects with the western terminus of Minuteman Bikeway back to Lexington center.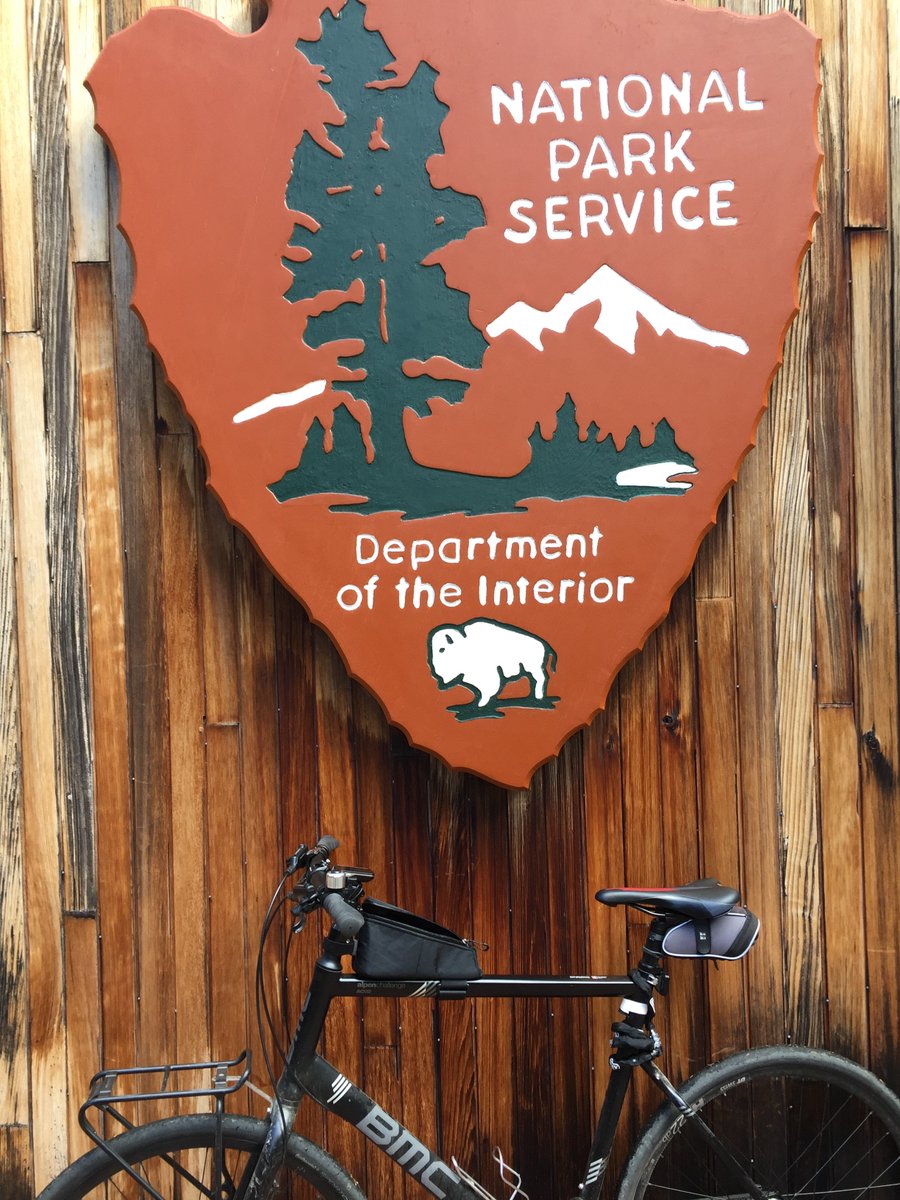 Recorded 30 July 2020 18:12 on Garmin & Strava ➡️28.88km ⬆️114m ⏬KML & GPX:
Raid Rockingham
Full day on extended gravel & paved trail sections. Started from train station in Lawrence mostly on paved trails with a few gravel sections to Manchester.
Picked up the Rockingham rail trail, very well maintained for 50km, stopped at historic train depot, through tunnels, & by ponds. Stopped at Me & Ollie's bakery in Exeter. Continued to Amesbury for connecting trail to Newburyport for train back home.
Recorded 28 November 2020 7:49 on Garmin& Strava ➡️128.83km ⬆️659m ↗️5.1m/km ⏬KML & GPX.
Plan to explore two other options in the area:
Central Massachusetts
All of these are on the list to explore. I am familiar with many sections of them, but had not attempted these routes in the planned routes.
The one highest on the list is a loop to the rail trails around Keene with optional visits to covered bridges:
I had been on most of this route during travel from Brattleboro through Keene & Winchenden to Fitchburg MBTA train station. Route log recorded 9 July 2011 12:32 on Garmin ➡️89.13km ⬆️655m ↗️7.3m/km ⏬KML & GPX. Paved loop with visits to covered bridges is also available.
No list is complete without a visit to the Quabbin Reservoir. I am not familiar with most of these trails. Not sure how technical they are. Need to explore further.
One route completes a loop:
Another visits the trails nearby:
Ride Studio Café Live Free
Continuous scenery on very quiet roads, mostly smooth gravel, no technical sections, some long climbs, & very few services.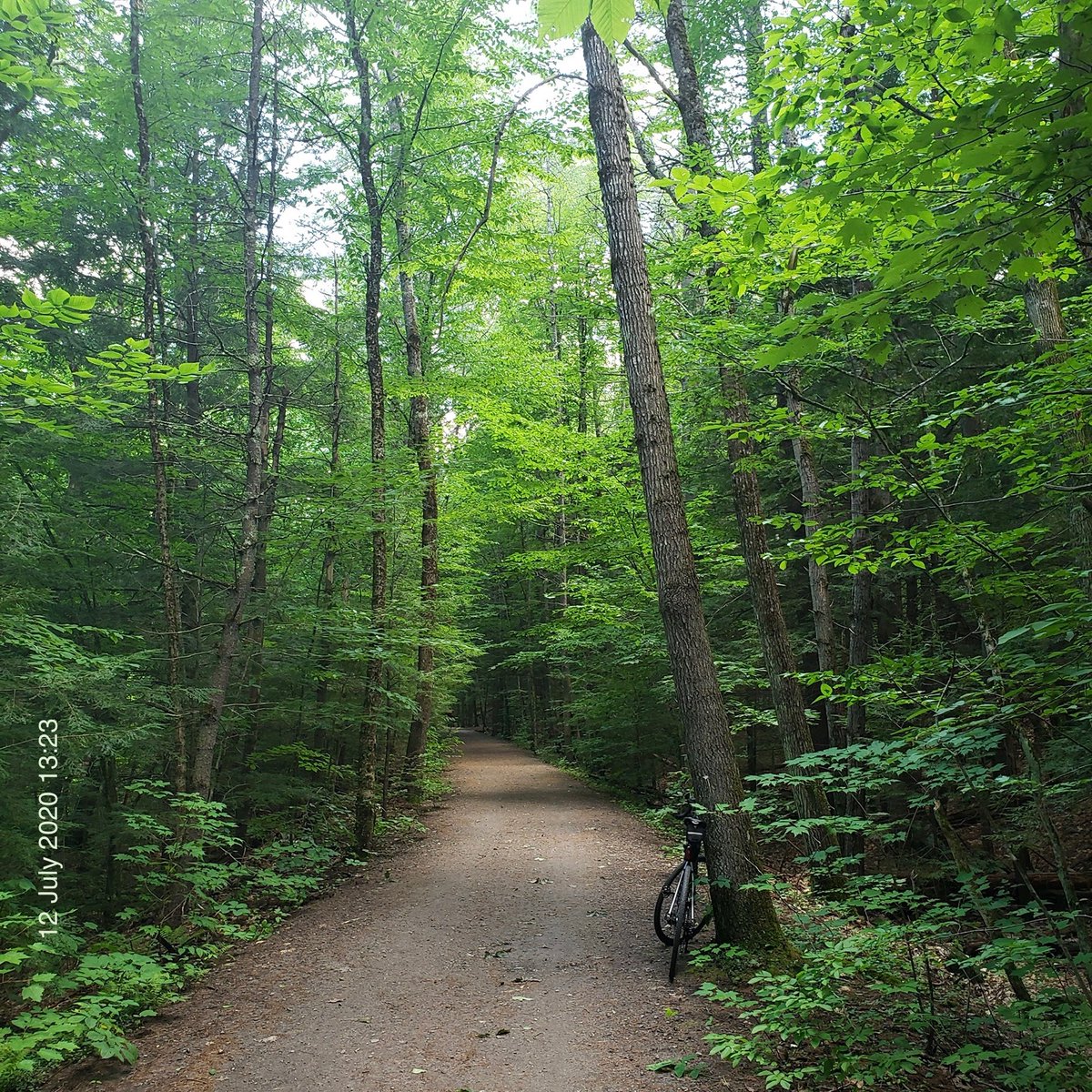 Route log recorded 12 July 2020 5:34 on Garmin & Strava ➡️104.77km ⬆️1,450m ↗️13.8m/km ⏬KML & GPX.
Kearsarge Klassic routes nearby are worth exploring:
Further north in the lakes district, Rick recommended this loop from Moultonborough:
Green River
Picked scenic routes & interesting stops in the area around Connecticut River. Started from Brattleboro Food Co-op for breakfast & Creamery covered bridge. Gravel roads started after crossing into Massachusetts & Green River covered bridge: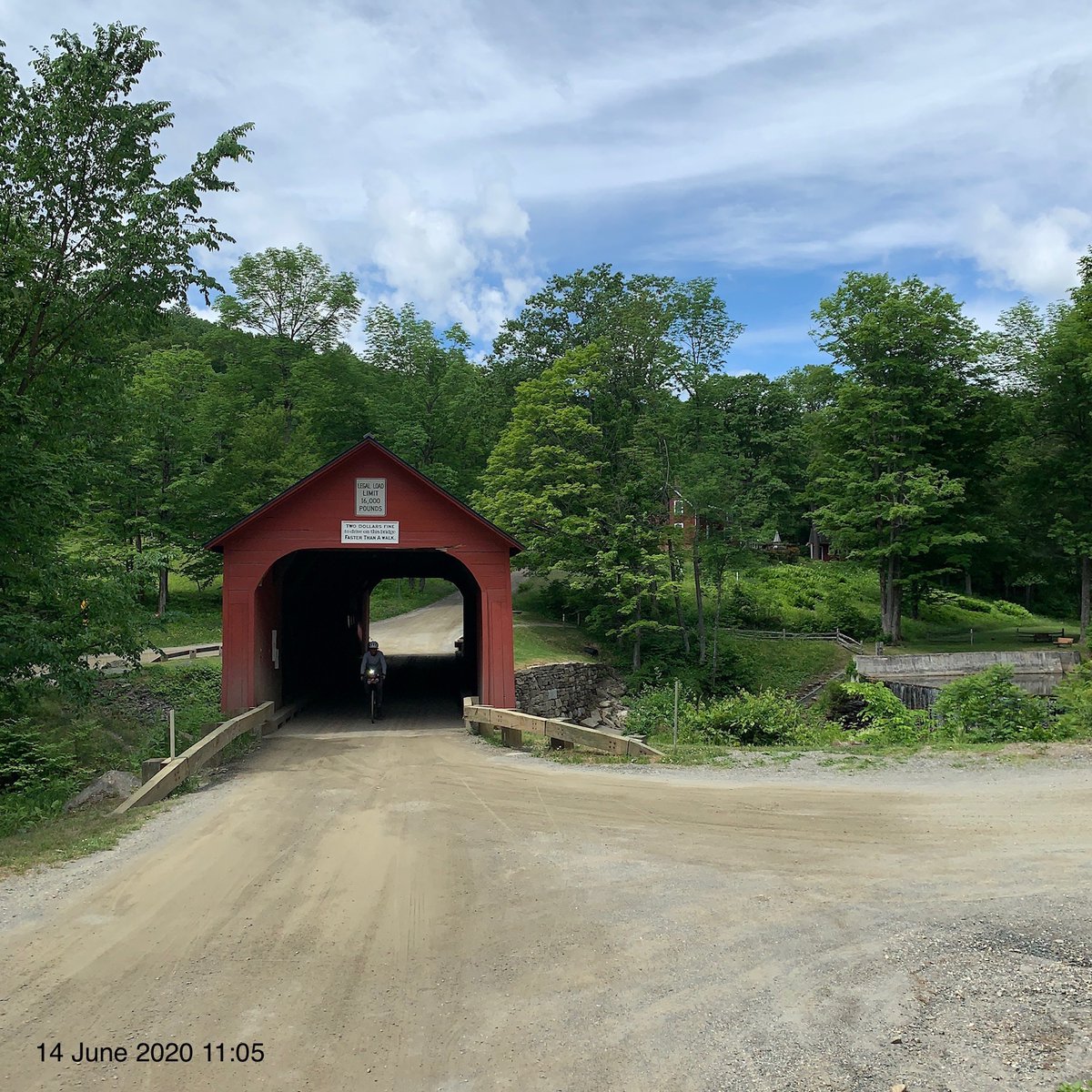 Long climbs were rewarded with long descents, farms, apple orchards, & quiet roads with little traffic. Returned to Connecticut River through historic Deerfield.
Lunch options were available in Greenfield, including 2nd Street Bakery. Continued for cookies at The Lady Killigrew Café. Stopped for view of French King bridge before fast sprint back to Brattleboro. Finished the day with Vermont hard cider, & Cajun chicken sausage gumbo at Top of the Hill Grill.
Gravel sections in first half of this route based on Deerfield Dirt Road Randonnée (D2R2) event hosted by Franklin Land Trust with many distance & route options. Route log recorded Friday 14 June 2020 9:49 on Garmin & Strava ➡️131.28km ⬆️1,488m ↗️11.3m/km ⏬KML & GPX.
Several more routes in the area available part of the event D2R2—The Deerfield Dirt Road Randonnée.
Vermont Northeast Kingdom
This classic Vermont view. All day.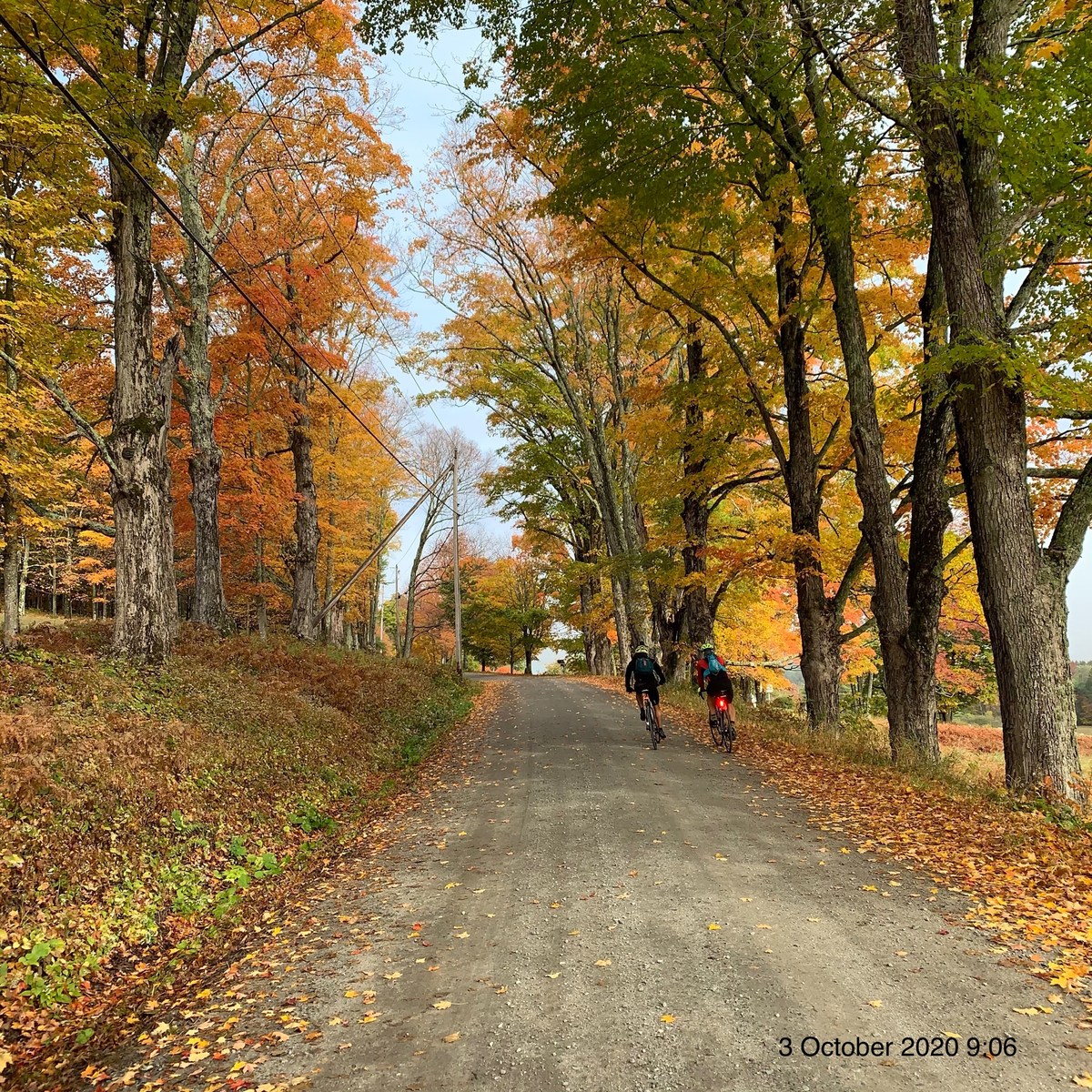 No better place to start than chocolate croissant, sourdough flax seed bread, & flourless chocolate cookie from King Arthur Flour. Fall colors everywhere we could see. Maintained gravel roads that made up 80% of the route were easy to roll on.
The price was serious climbs of 22.5m/km. To put it in perspective, LAMB gaps route had 17.2m/km. Loop around Mount Greylock came close at 21.4m/km. I had to look far back at the Grandes Alpes trip average 22.9m/km for 691km, including the toughest day at 29.2m/km for 99km included Cormet de Roselend.
Route log recorded 3 October 2020 5:43 on Garmin & Strava ➡️124.21km ⬆️2,796m ↗️22.5m/km ⏬KML & GPX. Very few services on the route for food & water. Mobile phone reception was not reliable.
Three other gravel routes in the area are high on my list to bicycle soon:
Northern Rail Trail
One way from Concord to Lebanon, NH. Wonderful day, all on trail, inside tunnels, across bridges, & by historical sites.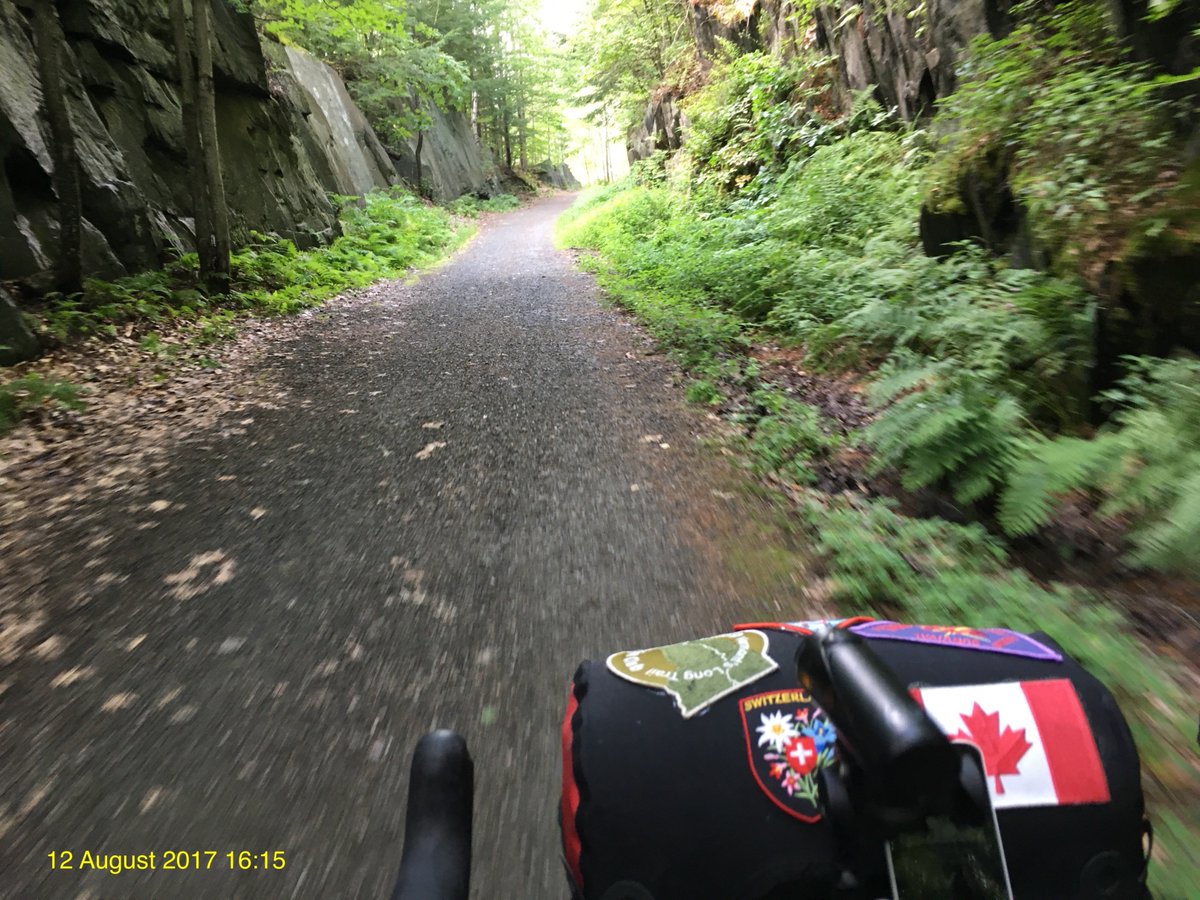 The trail turned out to be in excellent condition, well maintained, clear, hard packed, & suitable for my gravel bicycle, with 32mm tires.
Refer to trip report for details.
Route log recorded 12 August 2017 11:25 on Garmin & Strava ➡️113.75km ⬆️393m ↗️3.45m/km ⏬KML & GPX.
Le P'tit Gravel Train
The idea is firm. Route is very much work in progress.
The route starts in Mont-Tremblant in Québec, south to Montréal, Lake Champlain islands, Burlington, across Vermont, across New Hampshire, to finish in Portland. Take Amtrak train back to Boston.
It should be about 50% gravel.
Expect to plan as a trip with CRW club in July 2021, once border is open with Canada.
VTXL
Big adventure across the length of Vermont.
High on the list to complete in 2021:
Green Mountain Growler
This extraordinary loop weaves a selection of storybook-farm dirt roads, flowy New England singletrack, and rugged historic woodland paths to create a circuit of some of the world's best and most coveted craft beers.
Ride Studio Café MANEHA
Overnight mixed terrain. We only had to carry day supplies. Generous support along the way. RSC shuttled camping gear to private farm where drinks & buffet warm dinner was waiting for us after a long hard day.
Recorded 9 May 2015 5:14 on Garmin ➡️195.02km ⬆️2,552m ↗️13.1m/km ⏬KML & GPX.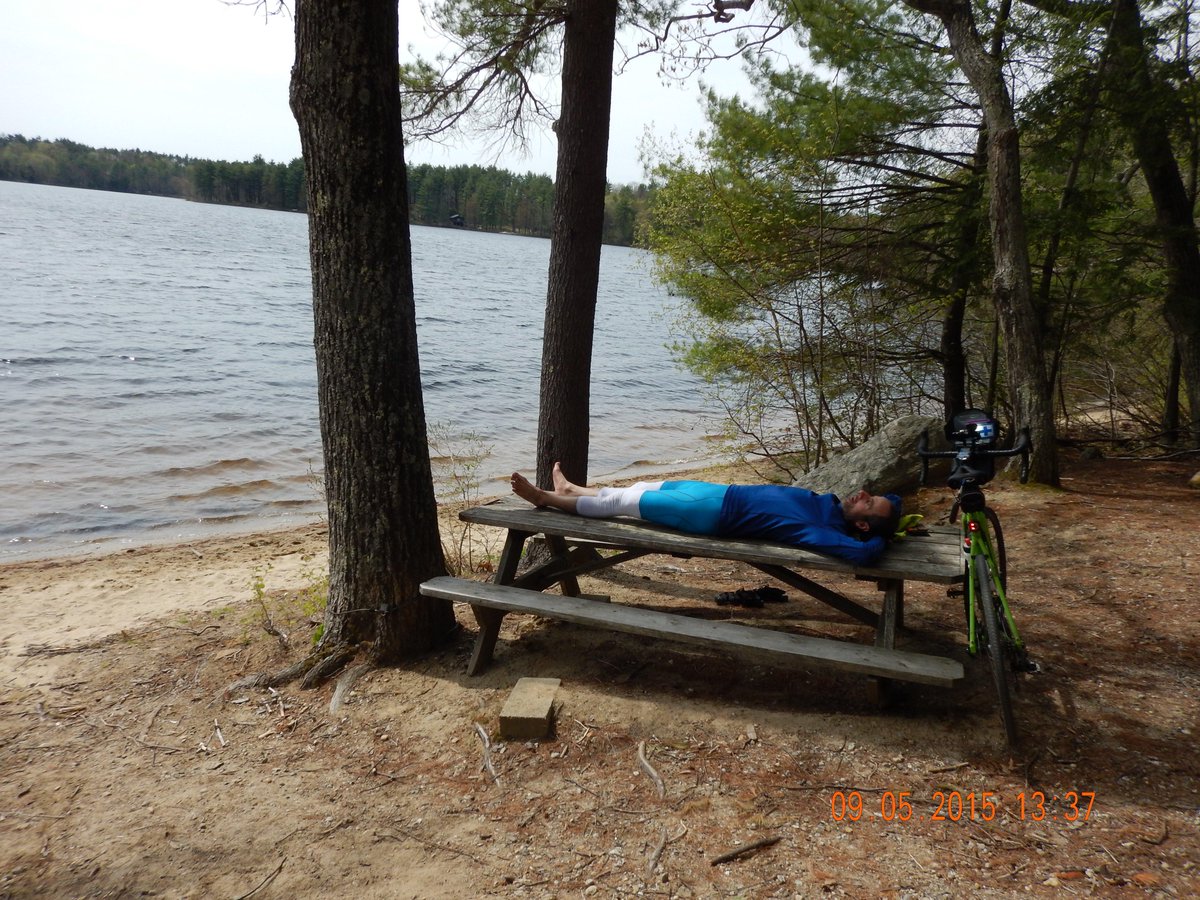 The return trip was just as fun: single track, double track, goat trails, rail trails, & roads. Recorded 10 May 2015 6:27 on Garmin ➡️192.55km ⬆️1,722m ↗️8.9m/km ⏬KML & GPX.
Rhode Island
I received recommendations for two routes that pretty much cover the same area.
One from GCN presented by Jeremy Powers. The description is confusing: "Expert gravel ride. Very good fitness required." yet "Mostly paved surfaces. Suitable for all skill levels."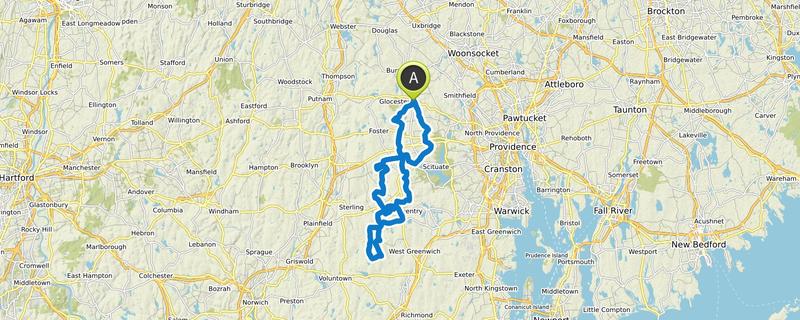 The other recommend by Cory:
Trains, trails, & gravel to NYC
Started early on commuter train from Boston to Worcester. Route was almost entirely on trails, most of them smooth gravel rail beds. Boarded Metro North train from New Haven to NYC.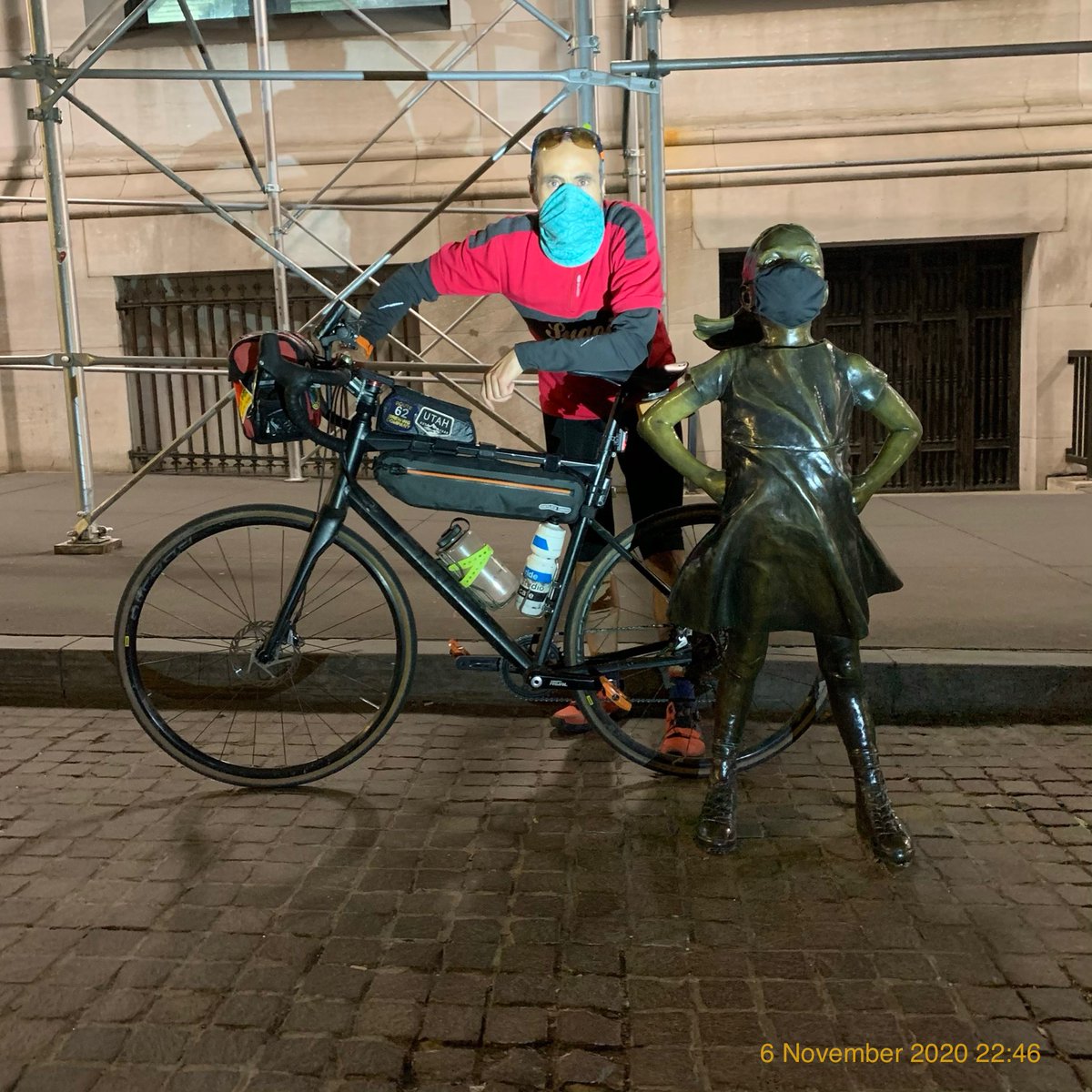 Finished the day with the Charging Bull & Fearless Girl of Wall Street.
Recorded 6 November 2020 4:23 on Garmin & Strava ➡️218.26km ⬆️1,317m ↗️6.0m/km ⏬KML & GPX. This gravel route was a better option compared with earlier Harvard to Yale tour. Working on a paved route from Providence to New Haven.
Battenkill Valley
Not exactly New England, in New York across the border from Vermont. But the scenery, farms, lush green, rolling hills, & gravel roads can be easily mistaken for some of the best routes in Vermont.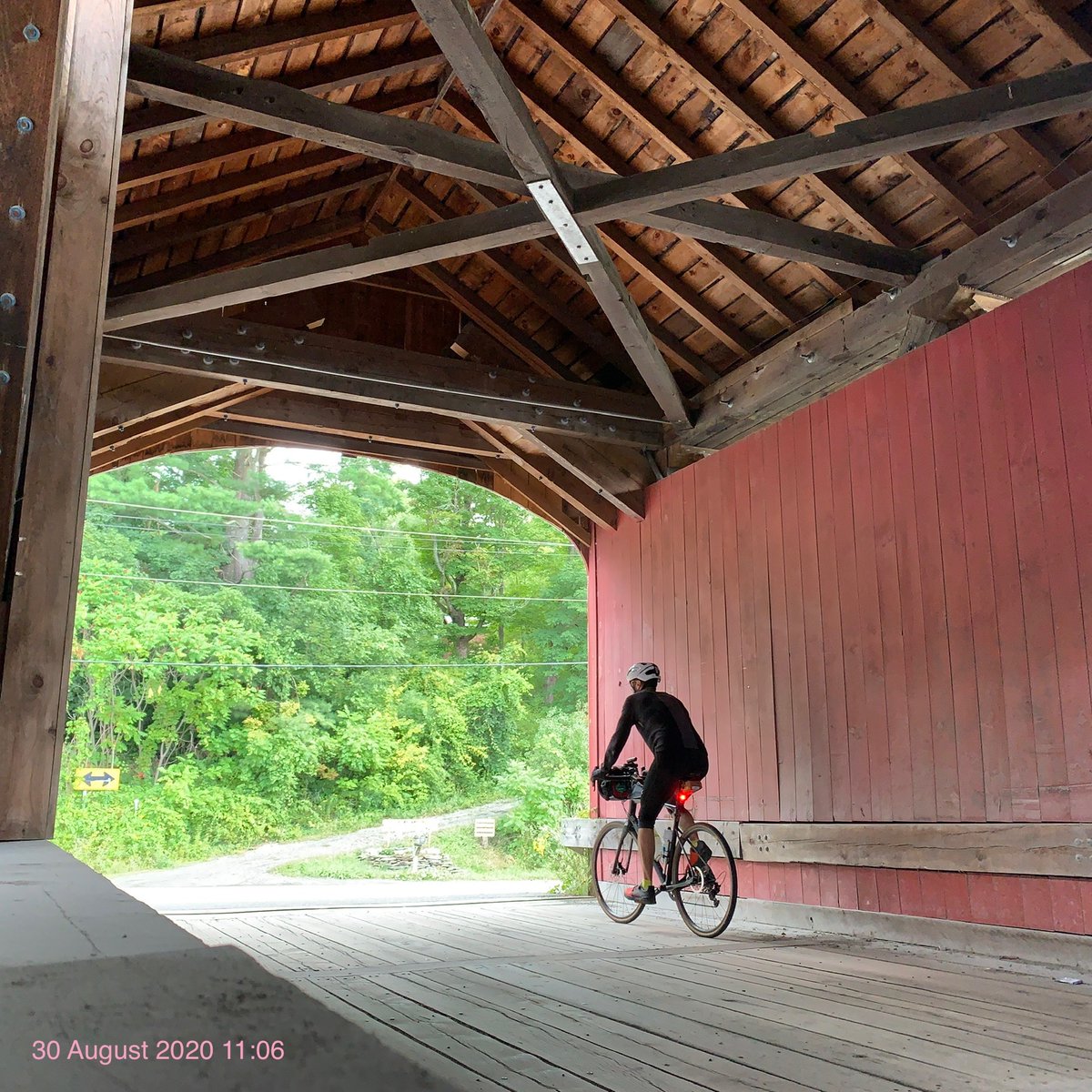 Route log recorded 30 August 2020 7:54 on Garmin & Strava ➡️105.09km ⬆️1,4091m ↗️13.4m/km ⏬KML & GPX.
Finish the day with a glass or four at Argyle Brewing Company: Coffee Porter, Raspblurry Ale, Saratoga Cider, & Cute Little Blonde.