Catamount Backcountry Challenge
Trip Report 8–10 March 2013
Spent the weekend between Stowe & Bolton Valley with almost non-stop skiing & hiking.
Friday
Arrived the Nordic Center at Bolton Valley late afternoon and was on the trails in minutes.
I wanted to investigate part of the route for Sunday ahead of the Catamount Backcountry Race and Tour, while getting some mountain views. And scenery is indeed what I got.
I started skiing on the track from the Nordic Center with icy conditions. At the Catamount trail, I put on snowshoes. I then climbed to Bryant Camp, Heavenly Highway, & Stowe View, all the way to the alpine ski area by Old Turnpike.

Map is available at Garmin Connect.
Saturday
This was a play day up and down Smuggler's Notch near Stowe. I picked it up from trips 17 & 18 in Snowshoeing in Vermont guide book published by the Green Mountain Club.
VT108 Mountain Road is closed (44.5333940,-72.7873170) just beyond the parking area for Stowe Mountain Resort. There is a parking area just before the barricade.
I skied up and down the road 1.8 miles to the visitor center (44.5568470,-72.7936500). Across from the visitor center is the trail head to Sterling Pond.
I attempted to hike Elephant's Head trail (44.5393730,-72.7907630) to Sterling Pond. It worked until I reached the evergreen trees. The snow was several feet high, reaching well into the branches closing in the trail for any possible hiking.
I back tracked and skied some more.
Sunday
Event day for Catamount Backcountry Race and Tour.
The tour is Section 22 of the Catamount Trail from Trapp Family Lodge to Bolton Valley for 9.4 miles.
Early in the morning, the trail was still icy. Without skins for my skis, I switched to snowshoes as soon as the climb started. I kept them on until after the ridge traverse. By then, snow conditions had improved and I was ready to make up time all the way downhill to the finish line.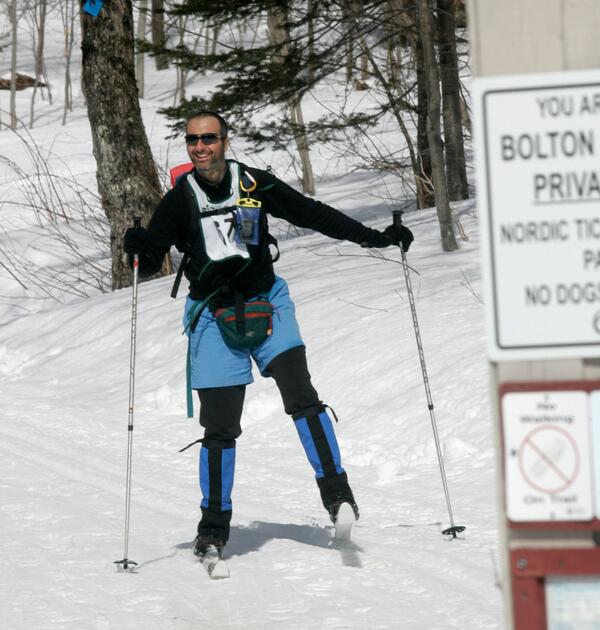 Track of the tour is available on Garmin Connect.