Rhein Trail: Lake Konstanz to Düsseldorf
Trip Report 4–9 May 2013
Why visit Germany? I had been there before. And of the long list of bucket list items, none of them was in Germany. Until my cousin invited me to her wedding. Of course then I had to be there on Friday 10 May 2013 to celebrate with her.
Only if I can squeeze in tiny bit of cycling between the flight and the wedding. I remembered a post by Jim Sayer at Adventure Cycling Association about a bicycle tour he made along the Rhein.
The plan was as follows: fly into München, take the train to Konstanz, bicycle along the Rhein to Düsseldorf, 800km in 5 days, attend the wedding, and fly back to the US. I would go light and fast. My entire packing list fit into a handlebar bag. More details about the itinerary and packing list below.
Arrive
From the airport, I took the 45 minute trip by train to München central train station. There I met with a cousin, shipped extra bags for the wedding, and packed food from the supermarket.
Four hours later, it was time to take the train to the starting line of the tour. Assembled bicycles were not allowed on the ICE (Inter City Express) train. In fact, I could not take anything that does not look like "luggage". A folded bicycle in large garbage bags bought from the market was the closest thing I can make up for "luggage". Only when on the local train that I assembled the bike, sweating every thought that crossed my mind of forgetting an essential part that could put an end to my tour before it got started. Miraculously though, all the pieces were there.
Stein am Rhein to Basel
There is no better way to start a hard long day of bicycling than with a Swiss breakfast: Birchermüesli, chocolate cereal with generous chunks of chocolate, Familia cereals, breads, cheese, and cold meat.
The Rhein bicycle route is EuroVelo 15. In Switzerland, it is also National Route 2 from the source in Andermatt to Basel.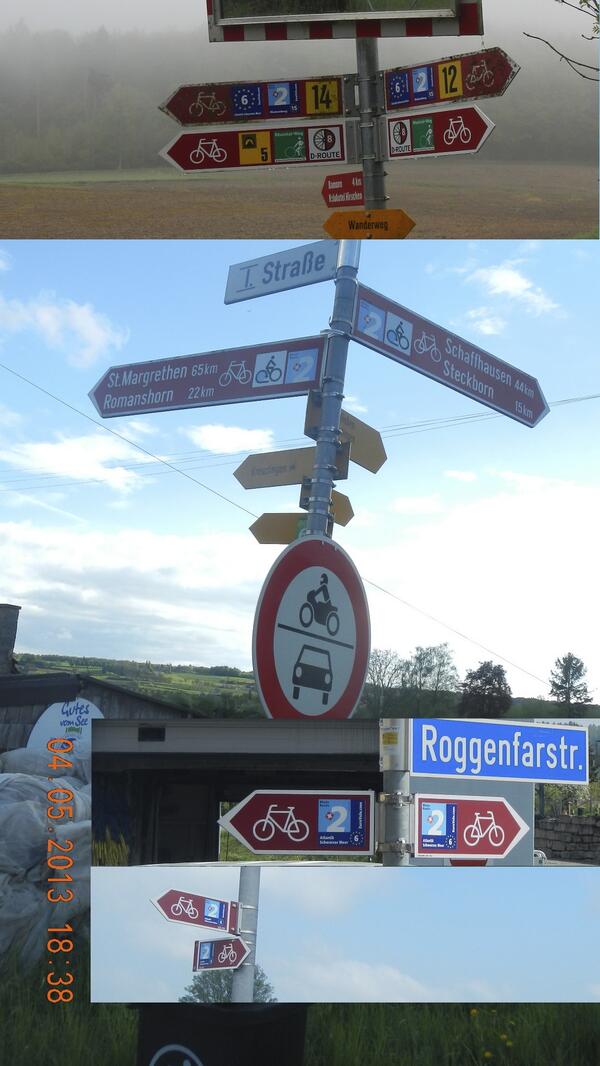 The route passed through many farms, towns, water falls, and river banks. Before I knew it, I had bicycled 147km to arrive Basel.
Basel to Strasbourg
This was the toughest day of the trip. Had I known better, I would have skipped this entire section on a train to Strasbourg.
The Rhein separates Germany from France. The trail is on the German side of the border. I guess, because of the name "Rhein river trail", the Germans took that literally. The trail hugged the river the entire 152km. OK, may be for 150km. No services. No change of scenery. One long monotonous view: rough gravel trail straight ahead, river on the left, and green pasture on the right.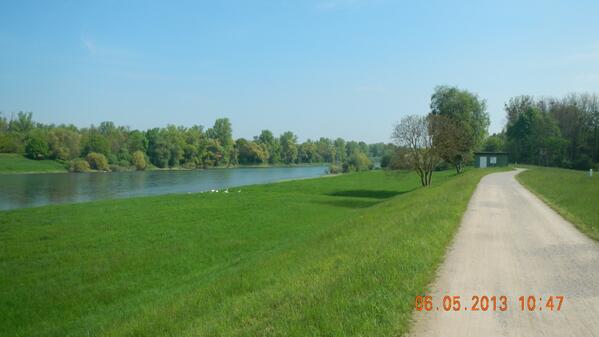 Location: 47.9399966667,7.5935200000
The thoughts of a spectacular ride I had the day before were crushed the minute I left Switzerland near that old border post into chaotic traffic, major construction, large industrial buildings, lack of route signage, and rough trail.
Strasbourg to Worms
This was going to be a long day at 193km. I was really hoping it would not be a repeat of the prior day. And fortunately it was not for the most part.
The first 85km were in and out of the river trail between farmland & the river. Some sections were rough & muddy. The bicycle got very dirty on this day and stayed that way for the rest of the trip.
Immediately after that first section, I crossed the river to the west bank into a small town with a shopping center. I bought some rye bread, orange juice, and banana for lunch.
Spreyer was the next big town with flight museum and historic old town. The final destination of the day at Worms was similar with a large cathedral in the center. I arrived well in time to shower, change, and walk around town all before sunset!
Worms to Koblenz
The trip was getting better by the day back to Switzerland levels. Breakfast was a very good sign with a good selection of cereals, cereal toppings, bread, cheese, and cold meet. I packed sandwiches for the road and off I went.
At Mainz everything changed. The town had a beautiful waterfront and historic center. Beyond the town, the river started twisting and turning between mountains on both sides, dotted with castles, restaurants, vineyards, and small historic towns.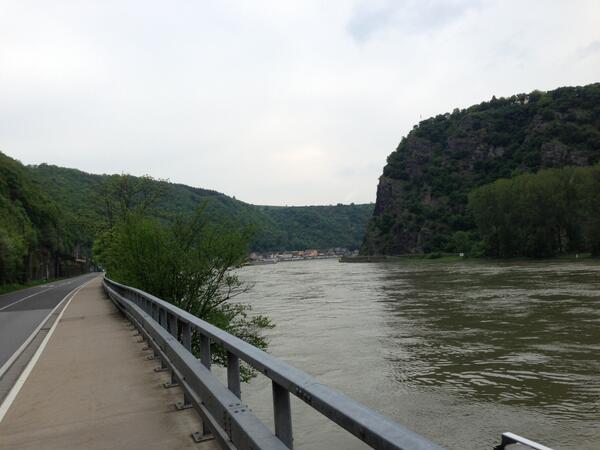 I quickly forgot the first part of the day on rough & muddy trail with many potholes and water puddles.
The day finished with a massive climb to the hostel adjacent a castle with views of the city and river.
Koblenz to Düsseldorf
I left wine country and entered beer country. The squares in Köln & Düsseldorf were packed in the middle of the day with people drinking, singing, and laughing.
I took extra time to walk around the old town, drink, and shop. I could afford that because the days were long and the sun not setting until close to 2100.
I did arrive into the hotel Thursday evening to be ready for the wedding on Friday morning. Congratulations Nadine.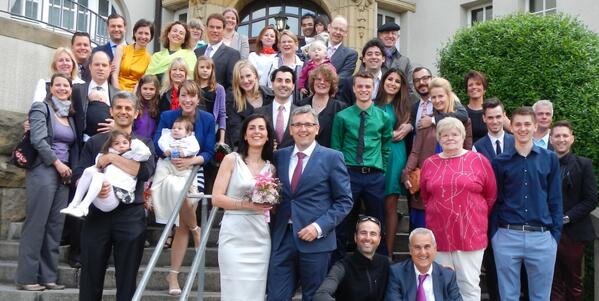 Location: 51.4662150000,7.0835716667
Guide
I did not find a good guide book for the route. Instead, I charted the route on my GPS and explored the area with the iPhone as I went along.
I found some guidebooks listed on the EuroVelo web site. They were in German. It seemed that I would have to carry more than one, which I could not afford on such a light weight trip.
Itinerary
Below was my daily itinerary. Distances, and elevations are according to RideWithGPS.com web site.
I have high doubts about the elevation estimates provided with the GPS tracks. The daily elevation gains measured during the trip were far less than estimated. The trail was flat for long stretches. While not easy with headwind on many sections, I do not believe that I climbed as much as estimated.
Packing List
I wanted to pack light, enjoy the scenery, and sustain all weather conditions. And that worked on this trip. I bicycled through rain, cool air, and warm sunny days.
My entire Ortlieb Ultimate weighed less than 3kg, which included everything I needed for the entire trip, except more food and water.
Bicycle
I had the Bike Friday Pocket Expedition with semi-slick 20×1.25 tires. The bike handled very well with no mechanical problems the whole way, including on very rough gravel while covered in mud.
On Bicycle
Water bottles (2)
Front light
Garmin Edge 810 GPS
Handlebar bag
Rear light
Tool kit
Patch kit
Pump
In Handlebar Bag
CO2 cartridges (2)
Tooth floss
Tooth brush
Tooth paste
USB charger
Mini USB cable for GPS
iPhone cable for charging
Europe electric outlet adapter
Camera extra battery
Band-aid for blisters and cuts
Tables for hydration (Nuun)
Sun screen
Note book (Moleskine)
HR strap gel (Parker Spectra 360 Electrode Gel)
Chamois cream (Assos)
Running shorts: base layer as underpants. They were easy to exchange with the light long pants when one of them was being washed.
Rain jacket
Rain pants
Thermal wool long sleeve shirt
Thin wool hat
Helmet rain cover
Booties (Sugoi Resistor) for cold and rainy days
On Me
Helmet
Heart rate strap
Gloves half finger
Bicycle shorts liner
Pants cuffs to keep away from bicycle chain (2)
Sun glasses
Mirror attached to sun glasses
Long thin pants: sun protection during the day and just to be comfortable in the evening.
Long sleeve mid weight shirt
Sandals with SPD cleats (Keen): use on and off the bicycle. They were the only pair of shoes I had on the tour.
Waist bag (Arc'teryx Maka 2)
In Waist Bag
iPhone
Headphone
Camera
Snacks
Passport
Lip balm
Credit card
Cash
Hostel membership card
Pen
Maps
I relied on my GPS, iPhone maps, and the many signs of the trail available along the way. I was comfortable that not all three of these options maps will fail at once.
The Ten Essentials
Do not be tempted to ignore the ten essentials. It is true that the route is popular, dotted with services, and well marked. Yet, weather can change any time and services ran on their own schedule.
Refer to The Mountaineers list for details.
Tips
Food: the main source was wholesome breakfast and often dinner at the hostel. During the day while riding, I stopped at convenient stores by gas stations. I carried all my food. There were services along the route in restaurants. I did not have much preference for them though. I preferred to continue riding and enjoy the scenery.
Water: I carried two bottles of water with Nuun hydration tablets. There were many water fountains along the route in Switzerland. Otherwise, I filled at gas stations.
Internet access: available everywhere, free in Swiss hostels, for a fee otherwise for €3.00.
Lodging: make hostel reservations in advance. Even during a seemingly "off-season", there were times when I had to look around for availability.
Laundry: some hostels had washing machines and driers, or washing service for a fee.
Weather: the weather forecast consistently called for rain, yet I was lucky by riding in the rain for just a few hours. Temperature was mild and comfortable.
English is commonly spoken or at least understood enough along the route.
Mountain bike: this route is not for a road bike. There were some long stretches of rough and muddy trails. A cyclocross bicycle will probably do with 700×35 tires. I had 20×1.25 tires on the Bike Friday.
References