Burr Pond
This is hike 11 from Best Hikes with Kids: Connecticut, Massachusetts, & Rhode Island.
On such a warm day, the first order of business was to let the kids play near the beach area and have a picnic. The area is wide and shaded with many picnic tables, changing rooms, & small convenience store.
The blue blazed trail hugs the pond almost the entire way around it. About one third of the way, at the southern end of the pond, we took the yellow & blue spur to a rest area on a rock with an open view of the beach area.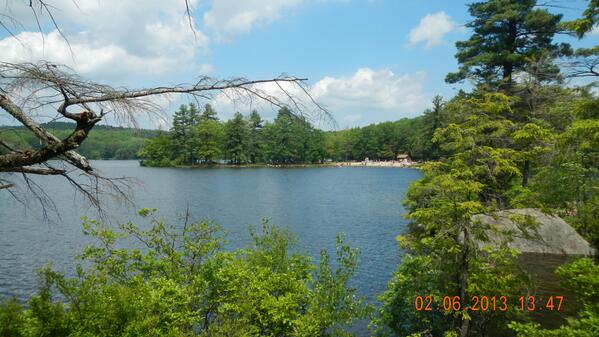 We continued on while the kids played hide and seek games behind the large boulders and trees until it was geocaching time. We found two of them: Burr Pond State Park and Burr Pond Regular.
Several kayaks & canoes were on the quiet water. The park offers them for rental.
Reference
GPS track for this hike.
Map of hikes with kids in New England.