Boston to Portland
Trip Report 13–14 July 2013
I had been patiently waiting for one of my kids to be ready for a bicycle tour. Finally, the six-year old really wanted to spend the weekend on such trip.
Boston to Portland is a great introduction to bicycle touring: route is generally flat, many beaches to stop and play, long stretches of bicycle trails away from cars, and of course it does not hurt to have plenty of ice-cream shops along the way.
The tour was one way from Boston to Portland on the bicycle, returning to Boston on Amtrak Downeaster service. This is one of the very few Amtrak services that allows unpackaged bicycles on the train, although that may be changing.
Saturday: Boston, MA to Wells, ME
We got up early and found our way on the bicycle to Boston North Station. We got there in time to catch the Commuter Rail at 09:30 arriving Newburyport at 10:31.
We actually arrived there with not enough time to purchase tickets. Instead, we did that while on the train using the MBTA mTicket app.
Newburyport is a great stop to stroll around town, eat a snack at Best of British, and pack some extra food for the trip at the Black Duck Market & Deli.
We had enough sugar and energy to start our tour. After the first section on the trail to Salisbury, we made our way to the coast on a busy road but with wide shoulders. From that point on, we stayed within view of the Atlantic ocean for the rest of the day, except for short sections.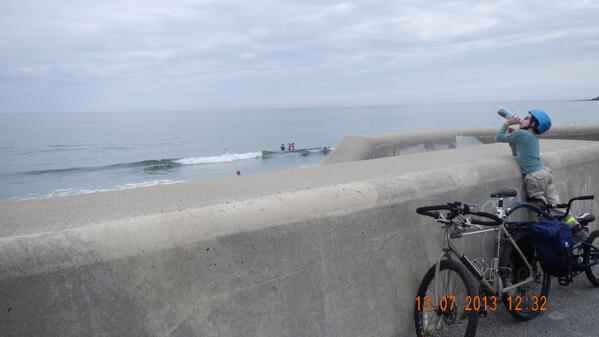 Location: 42.9291783333,-70.7980783333
That gave us plenty of chances to stop, rest, play in the sand, throw some rocks, and watch the beach. It was a cloudy day, but hot enough that the beaches were packed throughout.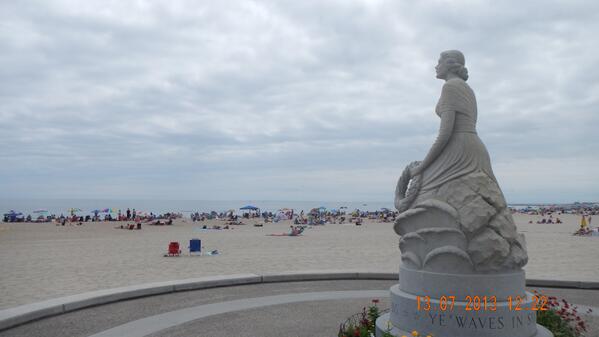 Location: 42.9131233333,-70.8089133333
There was a variety of sandy Seabrook Dunes, green Rye Harbor State Park, to rocky York, ME beaches.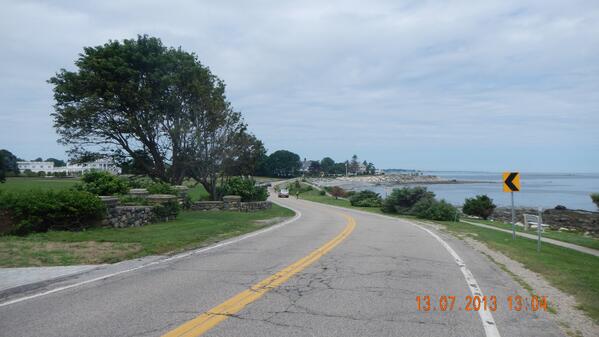 Location: 42.9601600000,-70.7729216667
And then there was the spectacular stretch on Ocean Blvd leading to Portsmouth, NH, topping it up with Kilwins ice-cream.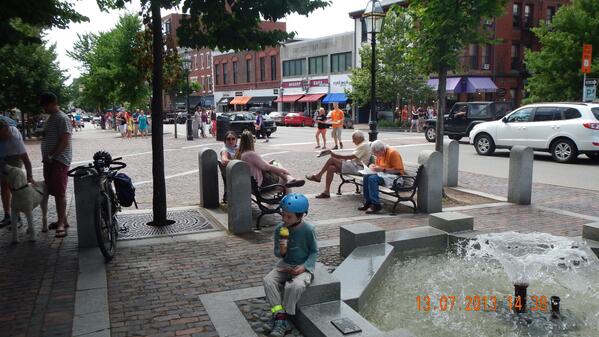 Location: 43.0768550000,-70.7576783333
We were starving by the time we arrived in Wells, ME. We quickly checked into Americas Best Value Inn. At this time of the year, all hotels in the area require two nights minimum. After calling every facility in town, this motel accepted reservation for one night only.
Then we wanted pasta. The first choice was for Varano's that had 30–45 minutes waiting. Instead, we opted for the quick service at Seacoast Pizza & Pasta: the pasta with meatballs hit the spot as we ate it on picnic tables outside.
Sunday: Wells to Portland, ME
Breakfast was at Borealis Breads in Wells, ME for bagels, cinnamon buns, honey sticks, and some other goodness to carry for snacks along the way.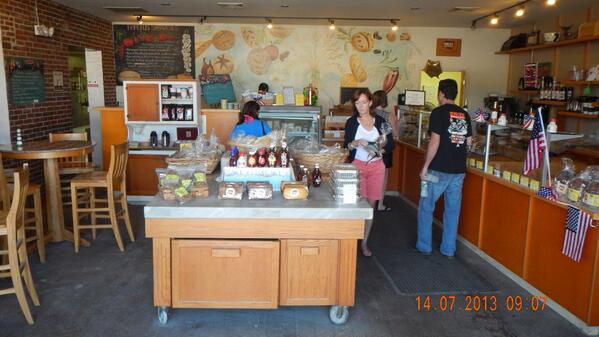 Location: 43.3088216667,-70.5840700000
This section of the tour is very different from the day before, almost entirely on East Coast Greenway trails, with no views of the ocean until crossing the bridge into Portland.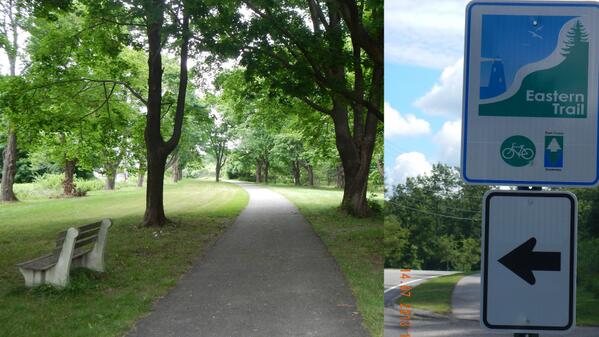 Location: 43.6225750000,-70.2819666667
We had a very leisurely day on flat route, in the shade, on quiet trail away from car traffic. We sang along the way, listened to music, and dreamed of another ice-cream cone once in Portland.
We arrived in Portland with plenty of time to eat at the Public Market House. Including ice-cream.
We made our way to the nearby Amtrak station to catch the train at 15:45 arriving Boston North Station at 18:15.
References