Winter Break in the White Mountains
Trip Report 20–23 February 2014
A hiking tour through the western White Mountains: Franconia Notch & Cardigan Mountain.
Lonesome Lake Hut
"… full service… full dinner… full breakfast… at no extra cost…" This was basically what I heard on the call from the huts management office at the Appalachian Mountain Club.
I thought surely this was a prank. The huts do indeed provide full service, normally in summer & early fall, between June & October. Our reservation, however, was in February, where there were still several feet of snow on the mountains. The huts at this time turn into primitive shelters with basic self-service amenities.
On the night of our reservation, for that one night only during the entire season, and for that one hut only that we were staying in, the Club would run a trial full-service, including full dinner & full breakfast, at no extra charge to us.
This was a big deal! We were already carrying heavy backpacks with winter sleeping bags, extra layers of clothes, water, & food for the hike. It was big help not to carry food for two main meals. Thank you AMC.
With that auspicious development, we set out on Thursday 20 February to Franconia Notch State Park. We parked at the trail head leading to Lonesome Lake.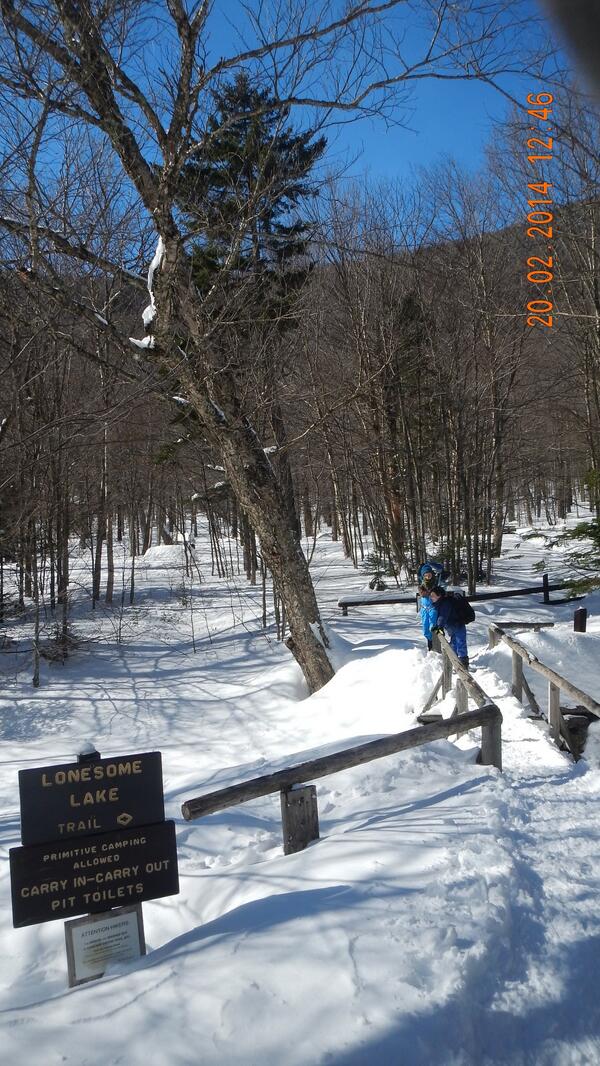 Location: N44.1420055555556, W71.684155
The bulk of our backpacks was because of three large winter sleeping bags rated for temperatures well below freezing at -30deg;C. Otherwise, we had a few extra layers for sleeping, hats, socks, & gloves. We could then use any and all to exchange with the ones we were wearing in case they get wet. See packing list suggestions below.
The hike was short & pleasant, serving as a good warm up for the rest of the trip. It was 1.70km distance with 315m total elevation gain. In 1.30km, the trail leveled along the shores of Lonesome Lake. We could see the hut directly on the other side, tempting us to walk in a straight line over the frozen lake. But we decided to keep it safe staying on the trails over solid ground. See hike map & log.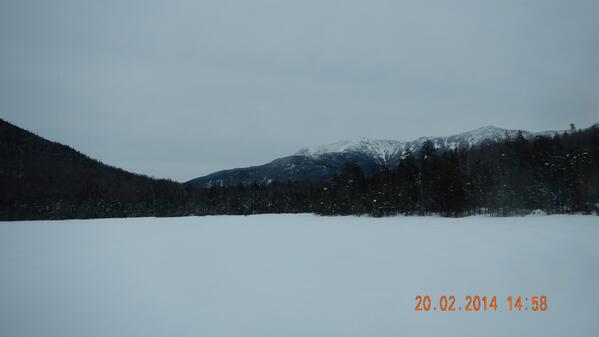 Location: N44.13831, W71.70234
Inside Lonesome Lake hut, we hung our wet clothes near the hot fireplace to dry. We played games, read books, & relaxed until dinner time.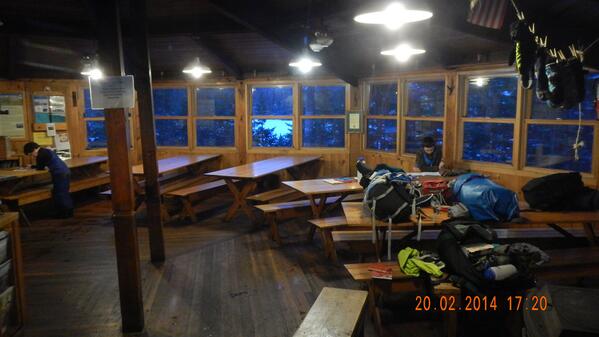 Location: N44.13839399814606, W71.7027573287487
Shortly after dinner, we retired to find a room with our bunk beds. Outside of the warm common room, the bunk rooms had no heat. We quickly spread the sleeping bags to wriggle quickly inside them for warmth. It did not take long for us to fall asleep.
Cannon Mountain
We woke up with big plans for the day: climb Cannon Mountain to 1,250m (4,100 feet). It is one of the 48 Four Thousand Footers of New Hampshire. In the winter, it is a ski resort, with a restaurant near the top & a cable car to the base.
After a full hearty breakfast, we started our hike to the top of the mountain. The hike got more difficult with each step: deep snow, steep incline, slippery rocks, &, at the top, ferocious wind. Luckily, we were prepared with the right gear, clothing layers, & plenty of food.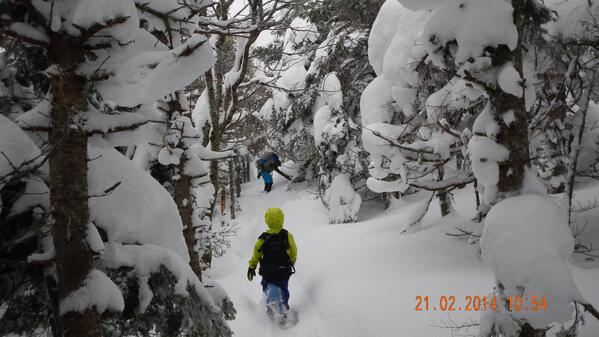 Location: N44.151028, W71.705442
We arrived at the restaurant full of hope to rest and eat a hot meal before taking a comfortable ride to the base of the mountain. Alas, little did we know that half of the state had a power outage. The entire mountain was shutdown without electricity, restaurant closed, and the cable car not running!
Now what? The wind was pushing us hard. We found a nook near the restaurant to have lunch. We could not linger for much in this cold wind. We needed to descent quickly. But how? Leave that for the kids to figure out. We were on a ski resort after all, near steep black diamond runs, with smooth slopes beckoning us to slide on.
The kids, as tired as they were, slid all the way back, all smiles.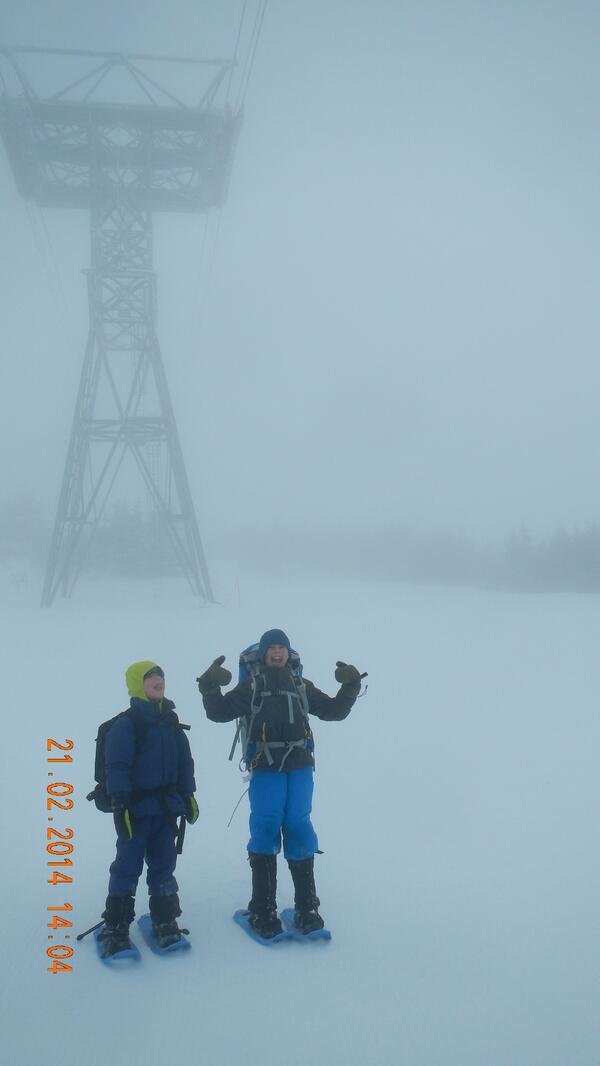 Location: N44.1600861111111, W71.6971833333333
Our destination that evening was Cardigan Lodge, another AMC facility. We arrived in time to light the fireplace, recover from a long day, & eat full dinner meal.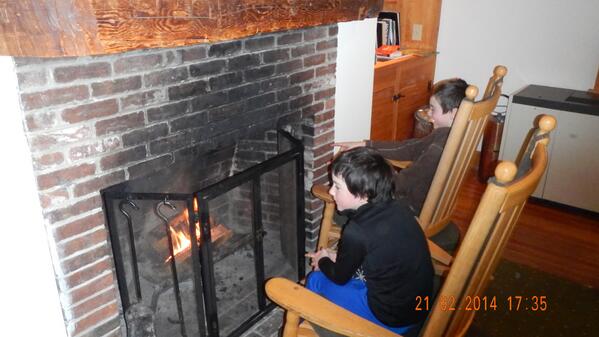 Location: N43.64955637603998, W71.87768932431936
An alternate hike for the day, back from Lonesome Lake hut would have been to take the Cascade Brook Trail, along the Appalachian Trail, to Pemi Trail, to Lafayette Place Campground.
Welton Falls
Initially, we had in mind a winter climb to Mount Cardigan, similar to the spring hike from last year. But we were still tired from the day before to Cannon Mountain. Instead, we chose a shorter flatter hike to Welton Falls.
It was a beautiful sunny day, perfect for lounging on the trail.
Frozen rain from the night before had coated the tree with a thin layer of ice that sparkled with the morning sun light.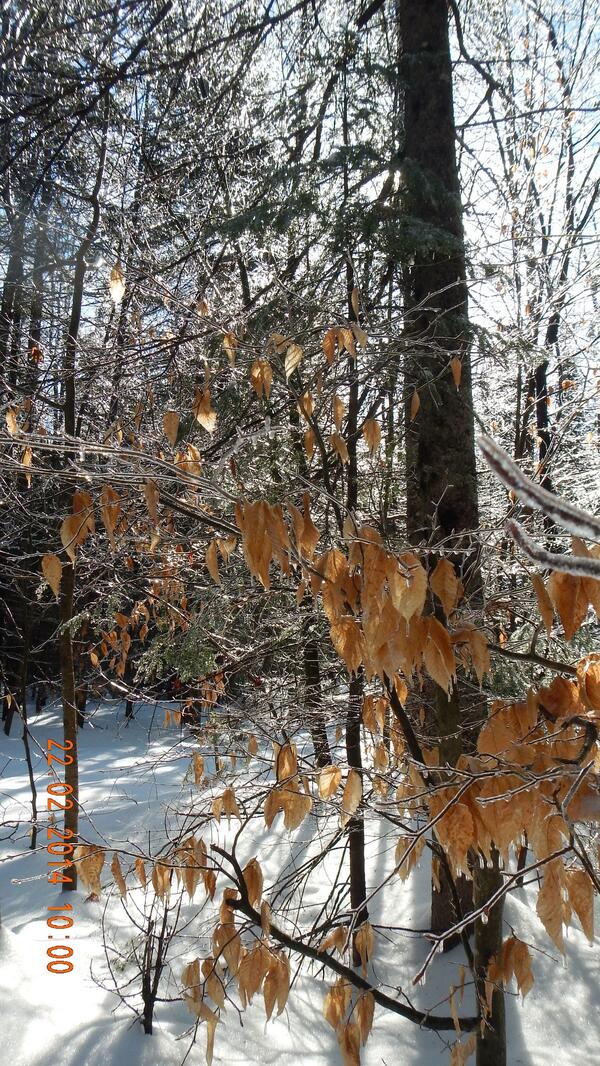 Location: N43.649728, W71.875705
Clark Brook was a major play area. The kids spent a long time pressing snow into cannon balls and throwing them into the water, using different features as target. The best was breaking surface ice to reach the water. Another was to shoot hoops into a hole.
Eventually we reached the mostly frozen falls. See hike map & log.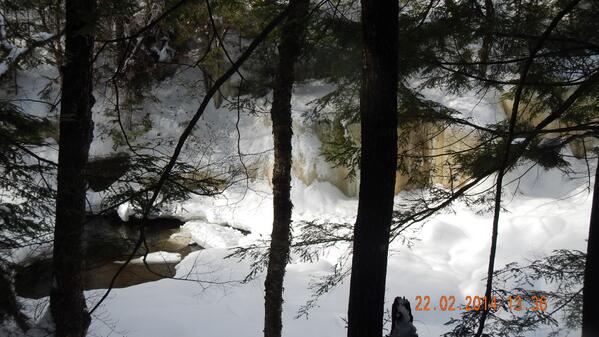 Location: N43.65672977641225, W71.8663196079433
Cardigan Lodge
The next morning we discovered a steep long sledding hill immediately next to the lodge, with many types of sleds available to borrow.
The boys slowly worked their way up the hill as they learned to control these new sleds. After several runs, they were coming down at high speeds, catching air over the bump at the bottom.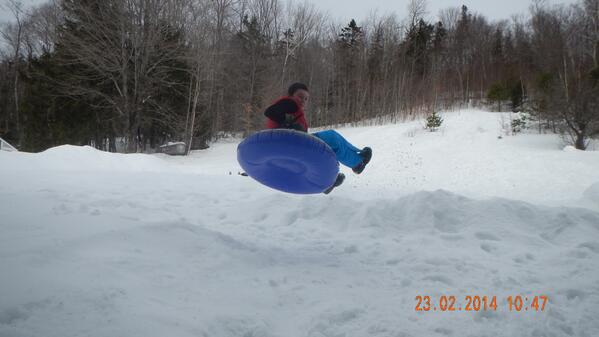 Location: N43.649717, W71.877458
We went into the lodge for hot chocolate & lunch break. With that, our trip was coming to an end. We returned home to start school next day.
Resources
Maps
Guides
Packing Lists
This is a long list of items used depending on the trip. Not all of them are needed on each trip. Rather, I use it as a reminder of items that can make my trip more comfortable.