Night at Lonesome Lake Hut
Trip Report: 1–2 November 2014
The short hike to Lonesome Lake hut can be done in almost any time of the year in any weather conditions: it is short distance from the trailhead (2.5km), low in elevation (325m), & away from severe weather on mountain peaks.
Therefore, we had planned this trip well in advance to spend the weekend at the hut, rain or shine. It was neither: cloudy with a few flakes of snow.
Lonesome Lake Hut
We started the hike from Lafayette Place campground with a gentle climb to reach the lake:

Location: 44.142003°N, 71.688703°W
As we reached the lake, some snow flurries started to fall:

Location: 44.138278°N, 71.702085°W
Moments later, we reached the hut:

Location: 44.138623°N, 71.702783°W
We settled inside the hut for a short while to eat a snack, warm up near the fire, & check into our room.

Location: 44.138600°N, 71.703128°W
Kinsman Pond
We still had time for an afternoon hike to Kinsman Pond & the nearby shelter: round trip 5.95km with 435m elevation gain.

Location: 44.139173°N, 71.714415°W
Snow accumulation on ground & trees increased as we gained elevation on Fishin' Jimmy trail:

Location: 44.138340°N, 71.730947°W
Until we reached the shelter where there was enough snow for the kids to throw snow balls:

Location: 44.136750°N, 71.732317°W
I escaped the snow fight for a few quiet moments to Kinsman Pond: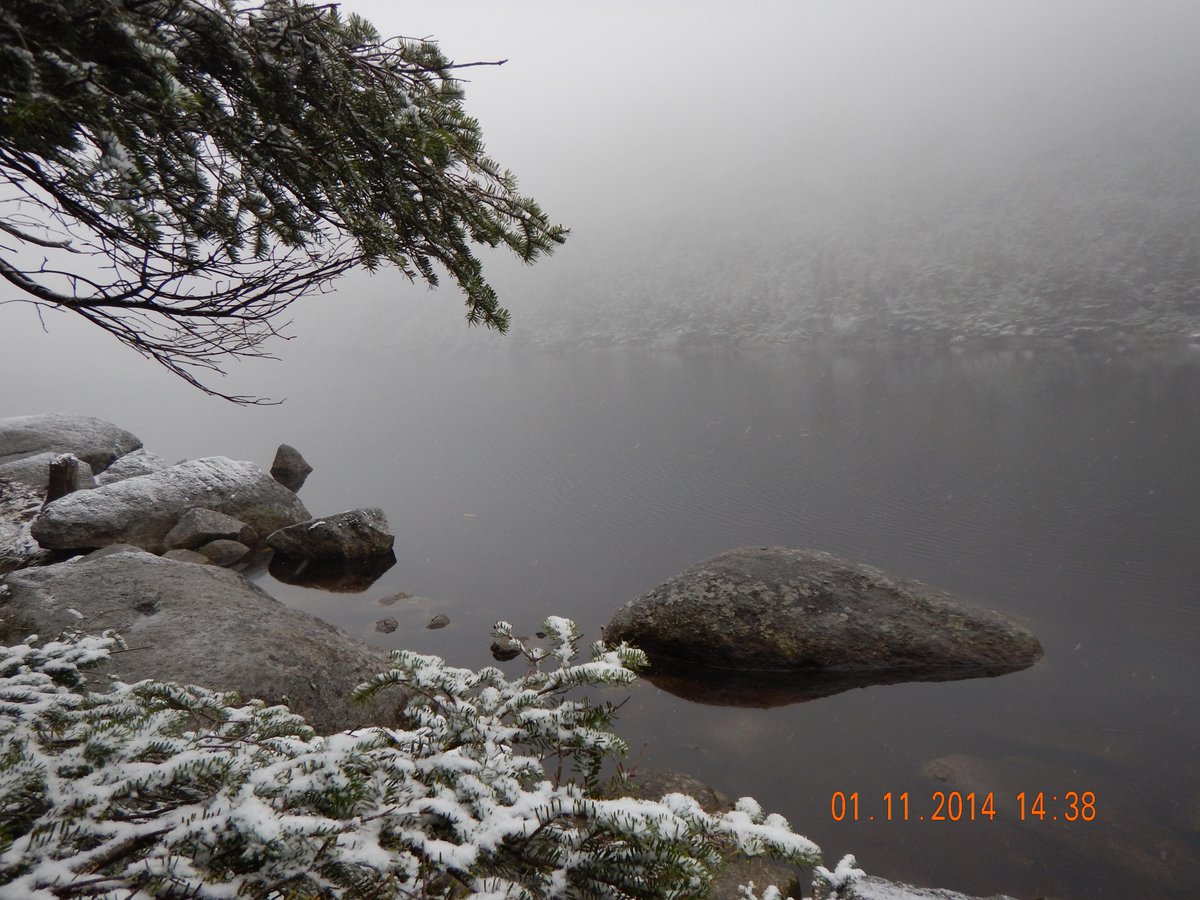 Location: 44.137128°N, 71.732340°W
We descended back to the same way to hut. At this time of year, the hut is hut is self-service. It does not serve meals. We brought our own food for simple dinner.
Cascade Brook Trail
We hiked the long way back from hut to Lafayette Place campground.

Location: 44.138438°N, 71.702498°W
It was a fun hike with several play options along the brook, such as stacking cairns:

Location: 44.124419°N, 71.692687°W
And sliding on the icy rock:

Location: 44.121922°N, 71.687387°W
The trail ended at The Basin with several water cascades:

Location: 44.121042°N, 71.683047°W
The last part of the hike (lap 3) was quick on paved recreational trail back to trailhead.
Resources
Route maps & logs: record of route from GPS device. View map or download copy in multiple formats such as GPX, TCX, & KML for Google Earth:
Hike from Lafayette Place campground to Lonesome Lake hut
Roundtrip hike from Lonesome Lake hut to Kinsman Pond
Return hike from hut on Cascade Brook trail to Lafayette Place campground