Fourth of July in Montréal & Burlington
Trip Report: 1–5 July 2015
Our trip combined jazz festival, bakeries, & bicycle trails with celebrations of Fourth of July independence day.
Montréal
We arrived Wednesday evening into Hotel Bonaventure that we booked on Hotwire. From our centerville location, we could bicycle & walk to all attractions in town.
Friday started early with a visit to Au Pain Doré bakery for breakfast & supplies for the day.

Location: 45.500330°N, 73.573417°W
We were then ready to spend some time at the jazz festival. First were performances for children:

Location: 45.507407°N, 73.564683°W
Next was a big band performance outside Place de Arms:

Location: 45.507775°N, 73.566078°W
Nearby was Science Centre with many hands-on activities. Yet, the biggest attraction was a massive hall for free play, design challenges, & raw material for building:

Location: 45.5046334°N, 73.5516726°W
We finished the day with dinner & swim in the outdoor pool on top floor of hotel.
Friday was a long bicycle tour on trails, parks, & river views. We stopped at Parc Jean-Drapeau, without enough time to enter the Biodôme:

Location: 45.51474°N, 73.531593°W
Soon we found ourselves on Circuit Gilles-Villeneuve car racing track: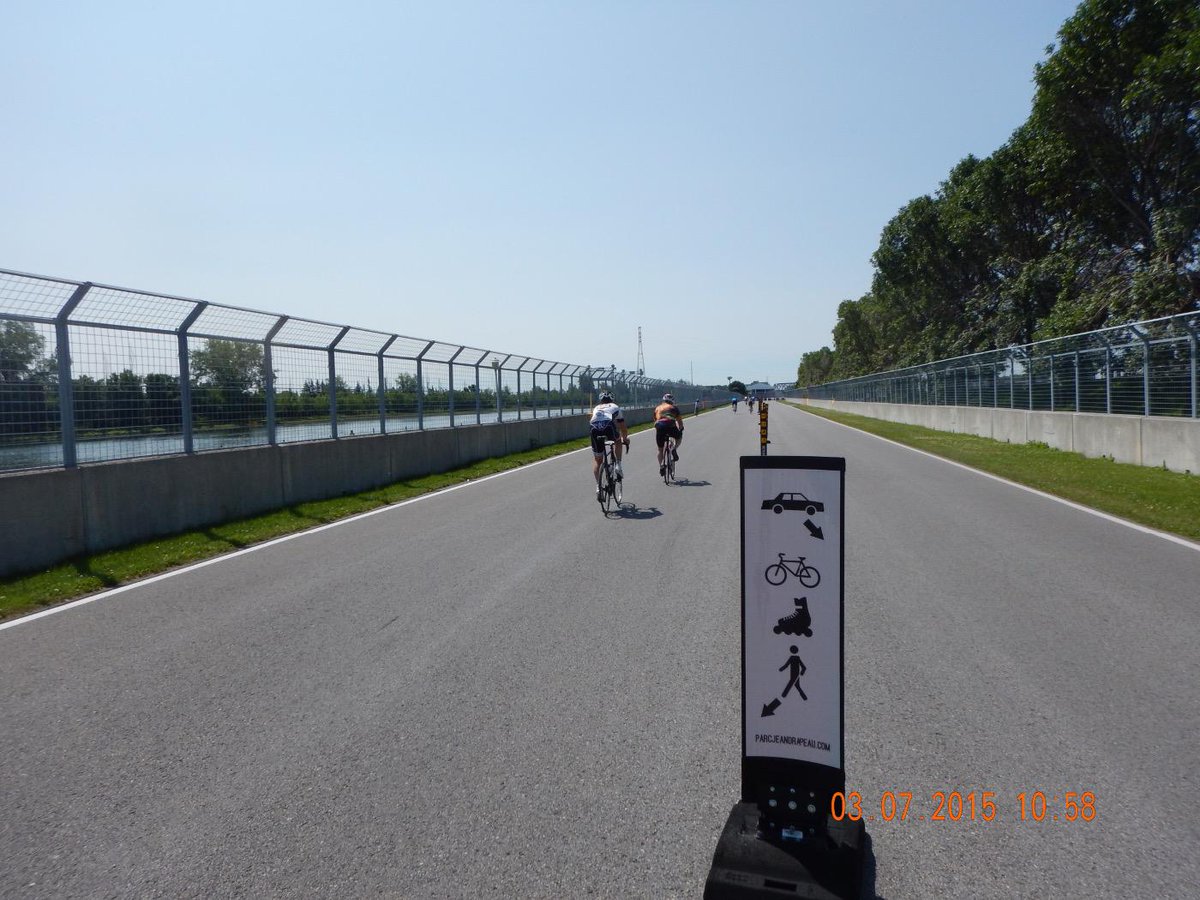 Location: 45.506618°N, 73.524315°W
Back close to town on La Route Verte, trails were heavily used:

Location: 45.481354°N, 73.570679°W
We packed the bicycles in preparations to celebrate Fourth of July back in the United States.
Burlington
As soon as we checked into our hotel, we went for a walk on Church Street, lined with restaurants, shops, flowers, & music:

Location: 44.475147°N, 73.212074°W
We packed a picnic from City Market to eat on the rocky shore of Lake Champlain.
Fireworks were scheduled that evening on Friday 3 July. While waiting, we read The Land of Stories: The Enchantress Returns by Chris Colfer.
Celebrations started with an air show:

Location: 44.477505°N, 73.221558°W
Fireworks show came next:

Location: 44.477505°N, 73.221497°W
Saturday was an extended bicycle tour along water front & causeway:

Location: 44.58498°N, 73.314491°W
As often is the case on Lake Champlain, we had tailwind pushing us traveling north. We then had to fight strong headwind on our return trip.
That was enough activity for the day. We were ready for dinner & swim in hotel pool.
Sunday, on our return trip, we stopped at Mount Philo state park to hike & get some views of Lake Champlain:

Location: 44.277878°N, 73.217201°W