Swiss Alps
Trip Report: 16–23 August 2015
Almost a year planning for this trip, I was ready to relax & start it right in the thermal baths of Scuol, last train stop in eastern Switzerland, near Austrian border & Swiss National Park.

Location: 46.797325°N, 10.301429°E
Earlier that morning, I had left Luzern by train for a week of bicycle over mountain passes starting in Scuol traveling west to Montreux looping back east to finish in Luzern. The loop was stitched from three sections of Swiss national bicycle routes:
Albula Pass
Not a single pedal was spared to warm up. Climbing started as soon as I stepped outside the front door of Scuol Hostel.
Air was cool, road empty, & scenery distracting. I could not help stopping frequently to catch my breath & enjoy the view:

Location: 46.790993°N, 10.262237°E
This first town, Ardez, is similar to most others I will bicycle through on the trip: flower decorations on windows & public spaces, cobble stone roads, mountain views, & of course water fountains:

Location: 46.775495°N, 10.199088°E
Another daily destination was to bicycle up to a pass or col. On this first day, it was Albula pass at 2,315m:

Location: 45.101335°N, 70.186618°W
On descent from pass, I stopped in a small village bakery to pick up, what I discovered later, one of the best pies I have ever had: warm, full of flavor, & filling just for a day on bicycle. I could not resist the smell for long, stopping along the chasm of Albula river to eat:

Location: 46.637264°N, 9.734728°E
Oberalppass
Chur is a large urban town with many grocery stores to purchase fresh fruit, vegetables, & chocolate. In the morning, it took me some time to make my way out.
Climbing was gentle at first upstream along Rhein river. This is the same trail, different section, that I was on in May 2013 to bicycle Lake Konstanz to Düsseldorf.

Location: 46.808235°N, 9.345555°E
Then climbing got steeper with switchbacks. Many switchbacks:

Location: 46.650002°N, 8.684328°E
Fourteen switchbacks in total to arrive Oberalppass. This was it: the source of Rhein river.

Location: 46.659363°N, 8.670333°E
From there, it was a frigid descent. The top, temperature dropped rapidly to near freezing, made colder by misty rain. I wore every single layer of clothing. But with rapid steep descent, wind, fog, rain, & fingers tight on the break, it was very difficult.
I made it to Andermatt visitor just in time to inquire about warm lodging nearby & hot dinner.
Snow Rest Day
From Andermatt, my plan was to climb over the highest pass on the trip, descent for my first visit of Zermatt, before continuing on.
Snow & icy conditions changed this plan. Instead, I rested, caught up on my notes, & reviewed route details.
Furkapass
Weather was beautiful. Rain stopped. Clouds started to clear. This was the day to climb the highest pass on the trip.
As the climb got steeper, there was a warning sign along the road:

Location: 46.597752°N, 8.50177°E
Then of course switchbacks started:

Location: 46.592468°N, 8.487278°E
The top was amazing: blue sky, snow capped mountains, & many bicycle race stickers on post.

Location: 46.572136°N, 8.414637°E
Descent was dizzying: fast, narrow road, switchbacks, & steep cliff beyond the edge of the road without guardrails!

Location: 46.572094°N, 8.409313°E
There it was, the source of another major river, from Rhône glacier:

Location: 46.576977°N, 8.387838°E
Descent continued for a very long time, even though it was less steep. Near the bottom, I could see Furkapass & Rhône glacier way up:

Location: 46.561043°N, 8.36437°E
Once in the lush green valley, it was mostly flat, with ever so slight descent along the Rhône:

Location: 46.495495°N, 8.295803°E
Until I arrived Visp. From here, instead of my previous plan to visit Zermatt, I took the train to Montreaux, to make up for lost snow day: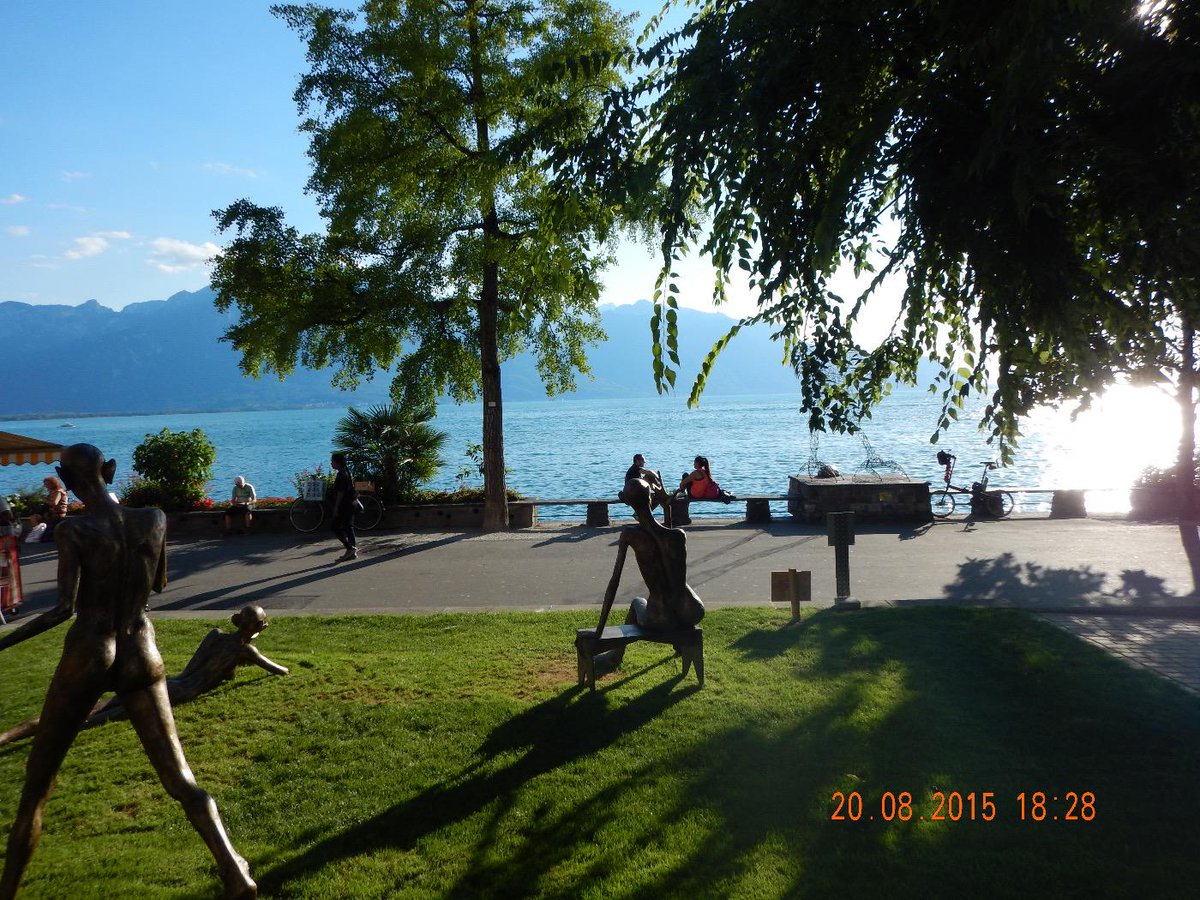 Location: 46.435989°N, 6.908447°E
The town is beautiful, home of the Montreaux Jazz Festival, with open views of Lac Léman.
Les Agites
This was a huge climb. Les Agites was only at 1,538m. But the approach was very steep for most of the climb. It was probably the toughest climb on this trip.
I did not know any of that in the morning. It started very relaxing, along lac Léman, view of Château de Chillon, & big mountains.

Location: 46.419983°N, 6.926195°E
I turned left in Agile. Climbing started. Then there were many signs for people not to handle ammunition. It turned out this area is for Swiss Army training.

Location: 46.358471°N, 6.973225°E
Along the way, there was a one-way tunnel, then opens for each way according to a schedule. I had no idea about that beforehand, nor did I know the schedule. I just proceeded carefully. Luckily, there were frequent side spaces with windows to stand by in case there was a car.
Before I knew it, I was overlooking Montreaux, Lac Léman, & surrounding mountains:

Location: 46.366337°N, 6.95767°E
Climbing continued to reach Les Agites col:

Location: 46.370461°N, 6.959563°E
The route was beautiful from there, between big mountains, descending slowly, with few sections on dirt trails.
Until I started smelling the cheese in Gruyères village. Cheese shops, restaurants, & monastery were all in the center:

Location: 46.583397°N, 7.080911°E
I took my time in town, enjoying cheese tasting & lunch break. Fribourg was close from there, large college town, with many services.
Glaubenbielen Passhöhe
Actually, three passes were scheduled on this final day of the tour. This was the biggest day on the trip, & last.
It started with a good long stretch to warm up & get ready for the big passes up ahead:

Location: 46.784012°N, 7.50278°E
In Thun, I stopped for a big lunch & food to carry on the road. Climbing was to begin immediately afterwards.
First it was Schallenberg Passhöhe:

Location: 46.82629°N, 7.796878°E
After a short descent, at a junction of road, river, & trails, there was a restaurant teeming with people visiting on foot, motorcycles, cars, & even a helicopter. This was Hotel Landgasthof Kemmeriboden-Bad, famous for its Merängge.
Then it was Wagliseiboden pass:

Location: 46.811852°N, 7.991537°E
It was getting close to the third, highest, & final pass of the day. Near it, there was a cheese stand:

Location: 46.818344°N, 8.085806°E
Finally, here is Glaubenbielen Passhöhe:

Location: 46.819229°N, 8.093378°E
It was a very steep descent from here, making full use of disc brakes.
Electric Bicycle
I saw many electric bicycles on this trip. They looked beautiful, practical, & reliable. So I decided to test one before leaving Switzerland that afternoon.
That gave me a chance for a tour around Luzern for another view of the mountains without having to climb any of them. Of course, until the next trip to Switzerland.

Location: 47.007271°N, 8.320008°E
Itinerary
I did not record the cost for each day. However, I generally budget for $100 per day, all inclusive, for room & board.
Day
Service
Log
Sunday 16 August 2016: Scoul
Dinner, bed, & breakfast: Scuol Hostel
Monday: Albula pass 2,315m to Chur
Bed &amp breakfast: Hostel JBN
Map: Garmin: download GPX, FIT, TCX, KML, & other file format for GPS track
Distance: 133.54km
Speed: 13.6km/h
Time: 9:48:05
Ascent: 2,251m
Descent: 2,933m
Temperature: 13.4°C
Calories: 3,662
Tuesday: Oberalppass to Hospental
Dinner, bed, & breakfast: Jugendherberge Hospental
Map: Garmin
Distance: 102.37
Speed: 12.7
Time: 8:03:41
Ascent: 2,061
Descent: 1,238
Temperature: 13.5
Calories: 2,720
Wednesady: snow day in Hospental
Dinner, bed, & breakfast: Jugendherberge Hospental
Thursday: Furkapass to Montreaux
Bed & breakfast: Montreux Youth Hostel
Map: Garmin
Distance: 97.96
Speed: 13.7
Time: 7:07:30
Ascent: 1,424
Descent: 2,227
Temperature: 17.5
Calories: 2,400
Friday: Les Agites to Fribourg
Bed & breakfast: Fribourg Youth Hostel
Map: Garmin
Distance: 130.76
Speed: 13.9
Time: 9:25:50
Ascent: 2,158
Descent: 1,933
Temperature: 20.9
Calories: 2,917
Saturday: Schallenberg, Wagliseiboden, & Glaubenbielen Passhöhe to Luzern
Bed & breakfast: Luzern Youth Hostel
Map: Garmin
Distance: 127.72
Speed: 12.4
Time: 10:16:16
Ascent: 2,628
Descent: 2,725
Temperature: 21.1
Calories: 2,975
Total
Distance: 592.35
Speed: 13.25
Time: 1d:20h:41m:22s
Ascent: 10,522
Descent: 11,056
Temperature: 17.4
Calories: 14,674
Guide
Main reference was Switzerland Mobility for route details.
Web search & Google Maps helped find lodging options & contact information.