Bicycle, Bakeries, & Boats in Pacific Northwest
Trip Report: 13–20 September 2015
Time travels slower on San Juan islands.
This trip was all about travel on Bike Friday, between bakeries of the Pacific Northwest, sailing on Washington State Ferries from one island to another.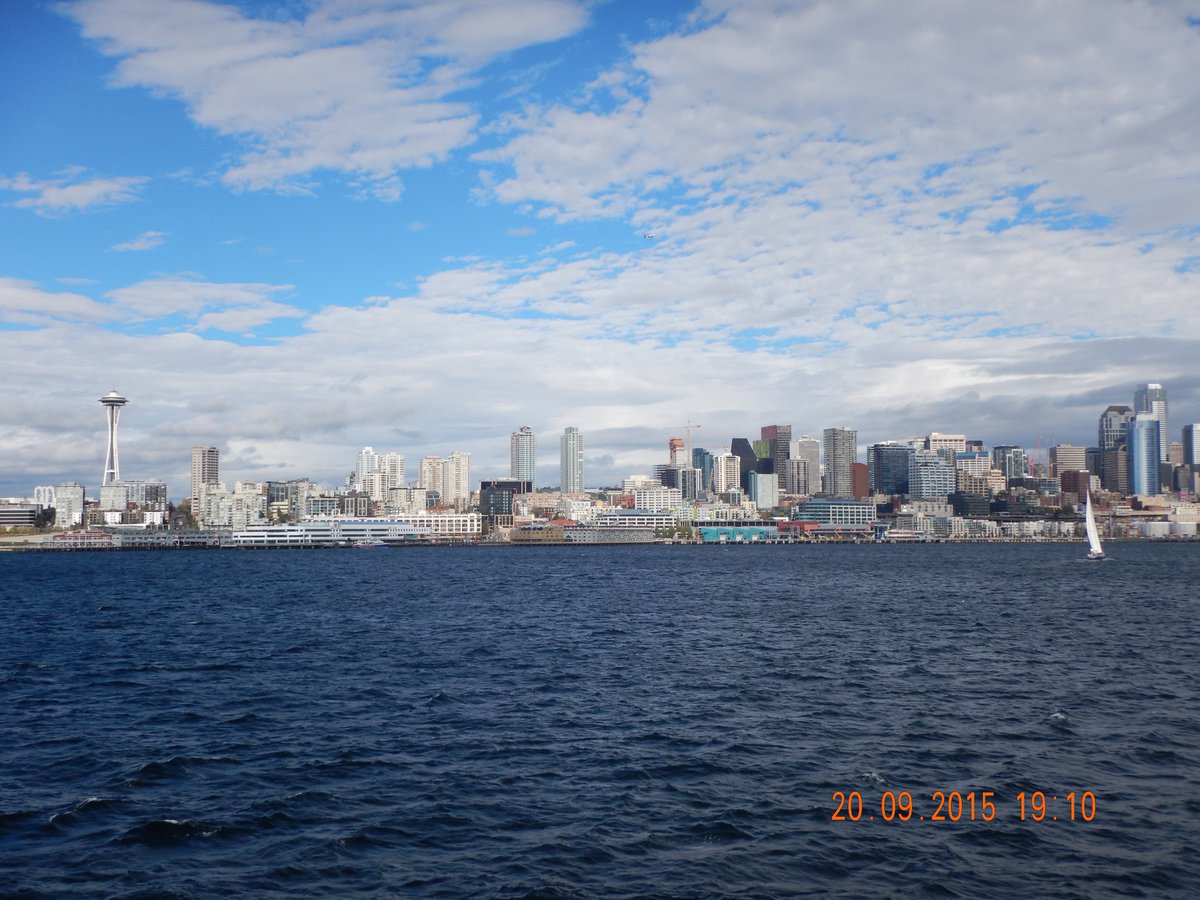 This trip could offer nothing else & keep its spot as one of the most memorable.
Itinerary was based in Seattle, with a few days on San Juan Islands, & day trips to nearby islands.
Friday Harbor
There are many reasons to visit Pike Place Market for fresh salmon, Market Spice, & Snoqualmie Honey. I stopped by early in the morning to get a fresh loaf of bread from Three Girls Bakery before boarding the ferry (lap 1) to Bainbridge Island: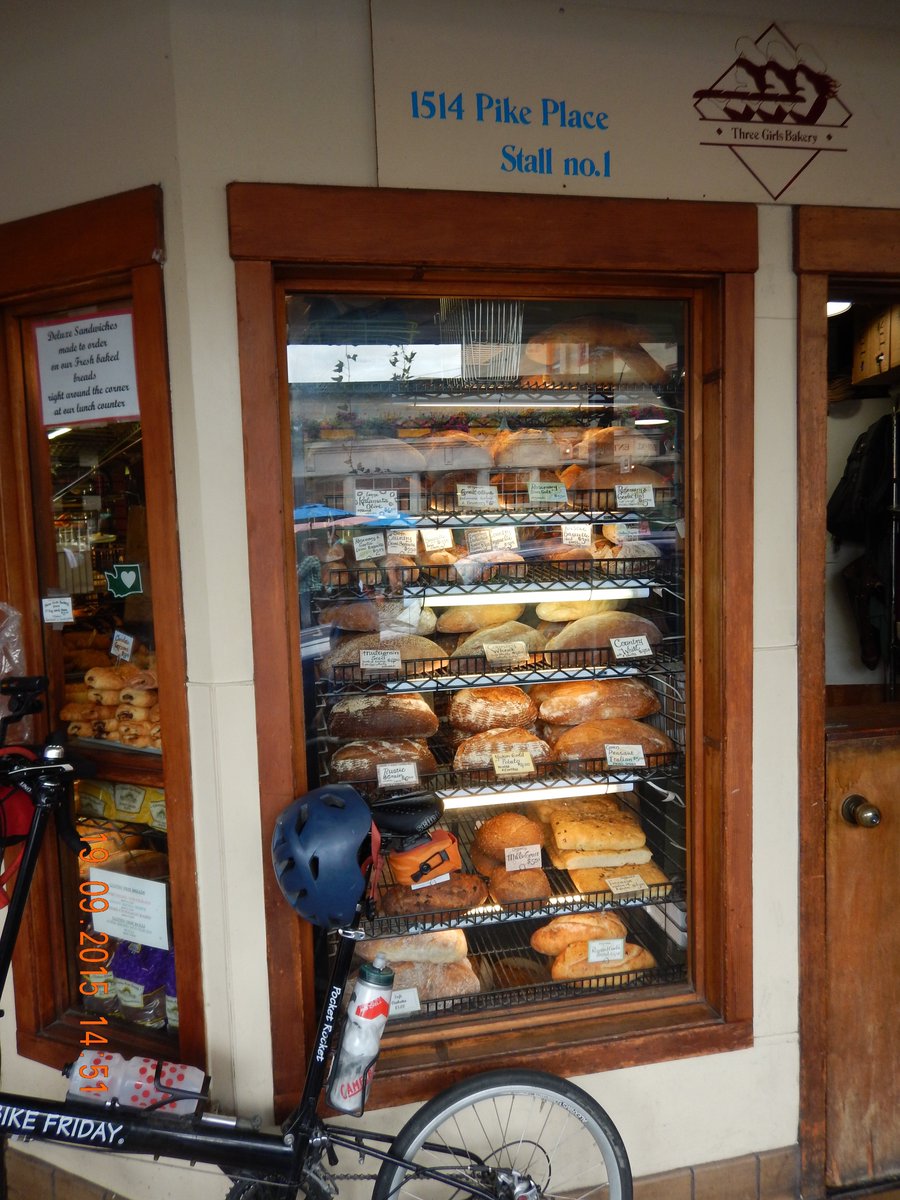 First day was going to be stressful: rain in the forecast, schedule to keep for three ferry crossings, & long distance to bicycle.
General Store in Port Gamble had an infinite variety of Seattle Chocolates. I packed several while resting by the ocean view: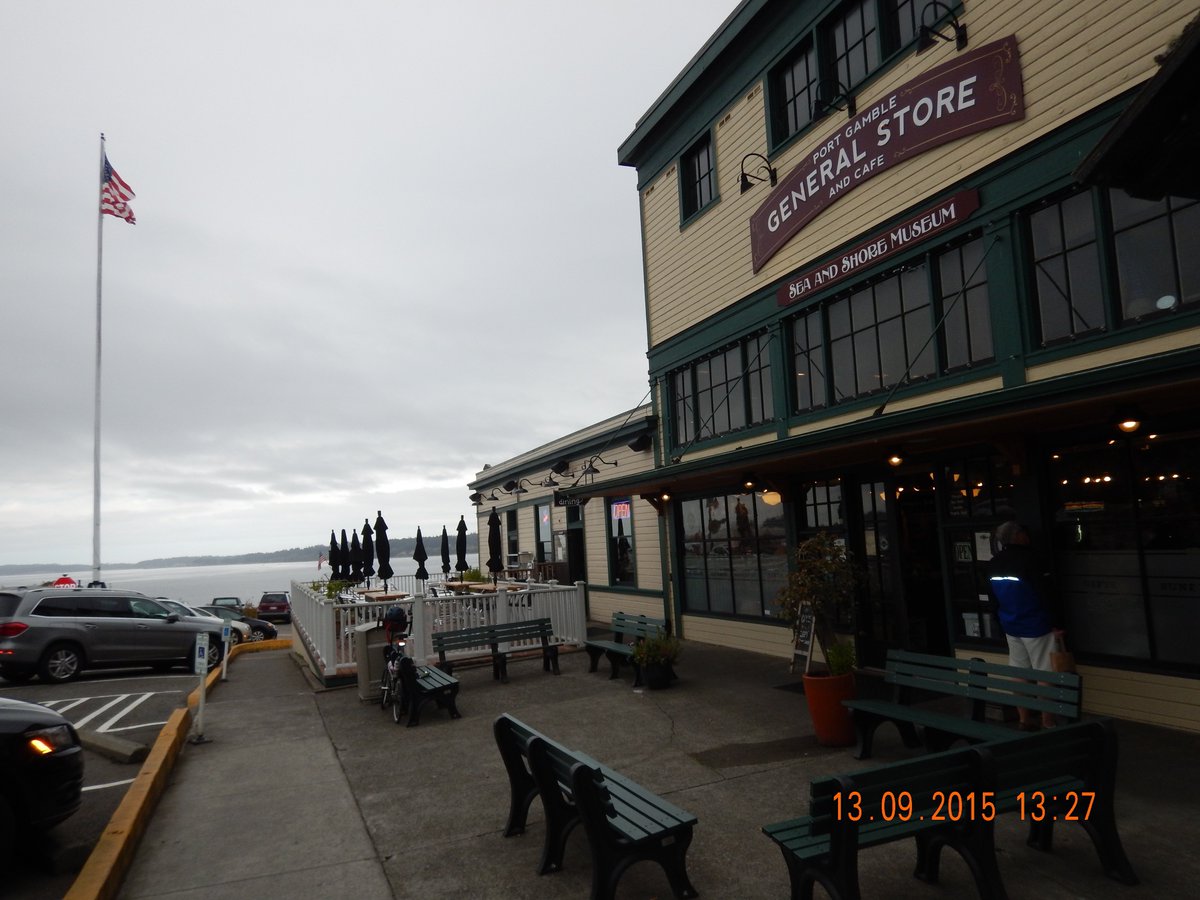 Near Port Townsend (lap 2), I bicycled on a scenic ocean trail, stopped by Food Co-op, toured the town, & supplied with bread at Pane d'Amore: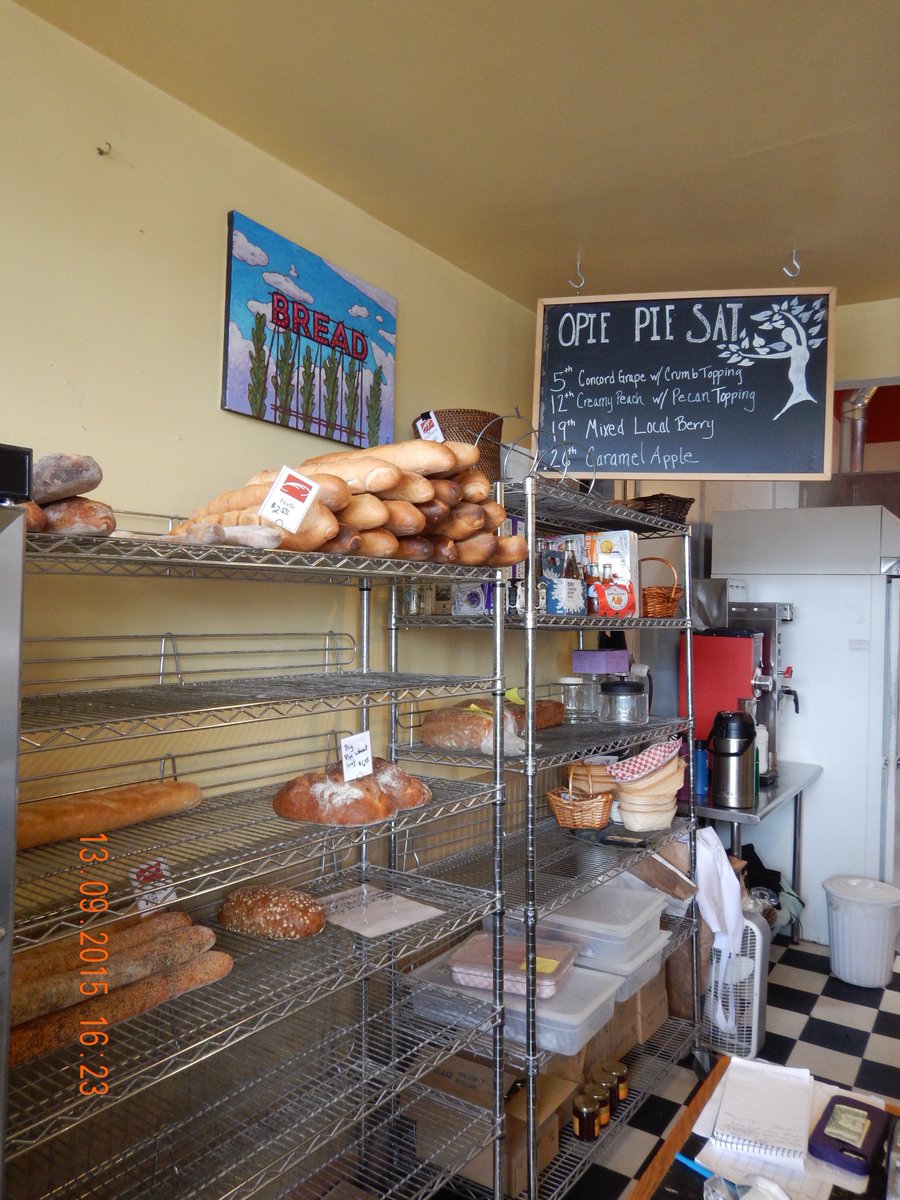 In Fort Casey on Whidbey Island (lap 3), I met a tour group from Adventure Cycling Association bicycling in the opposite direction. I actually meet up with this group again a few days later near Friday Harbor.
I continued north on Whidbey Island (lap 4), stopping by amazing views of Deception Pass, to catch the third & final ferry for the day (lap 6).
It was a short distance from ferry landing to hostel (lap 7) to rest after a very long day.
Orcas Island
I bicycled the short distance from hostel to ferry (lap 1). Travel on Washington State Ferries between islands was free.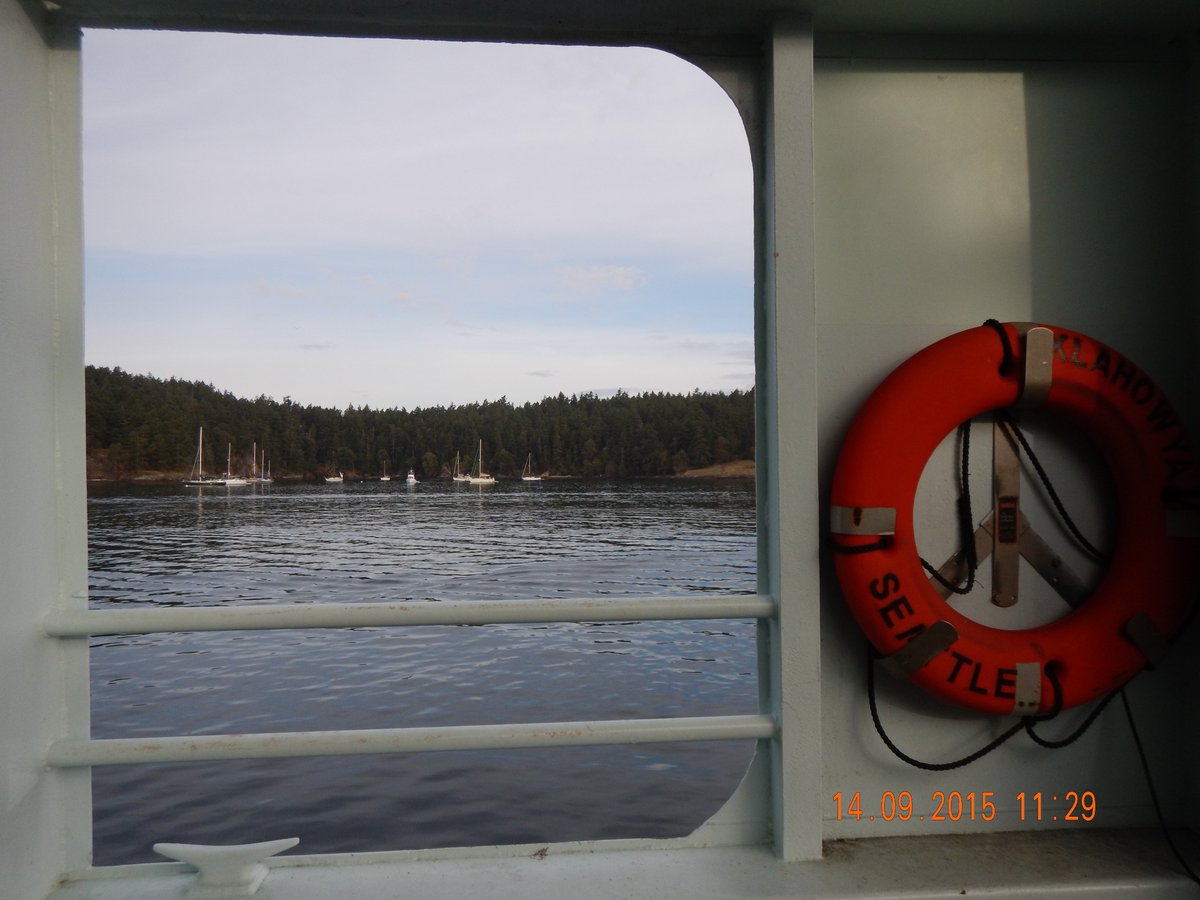 Rain was in the forecast daily through the entire trip. But other than a couple of hours on the first day, it did not rain any more. That left a beautiful cloud formation, subtle light, & calming views: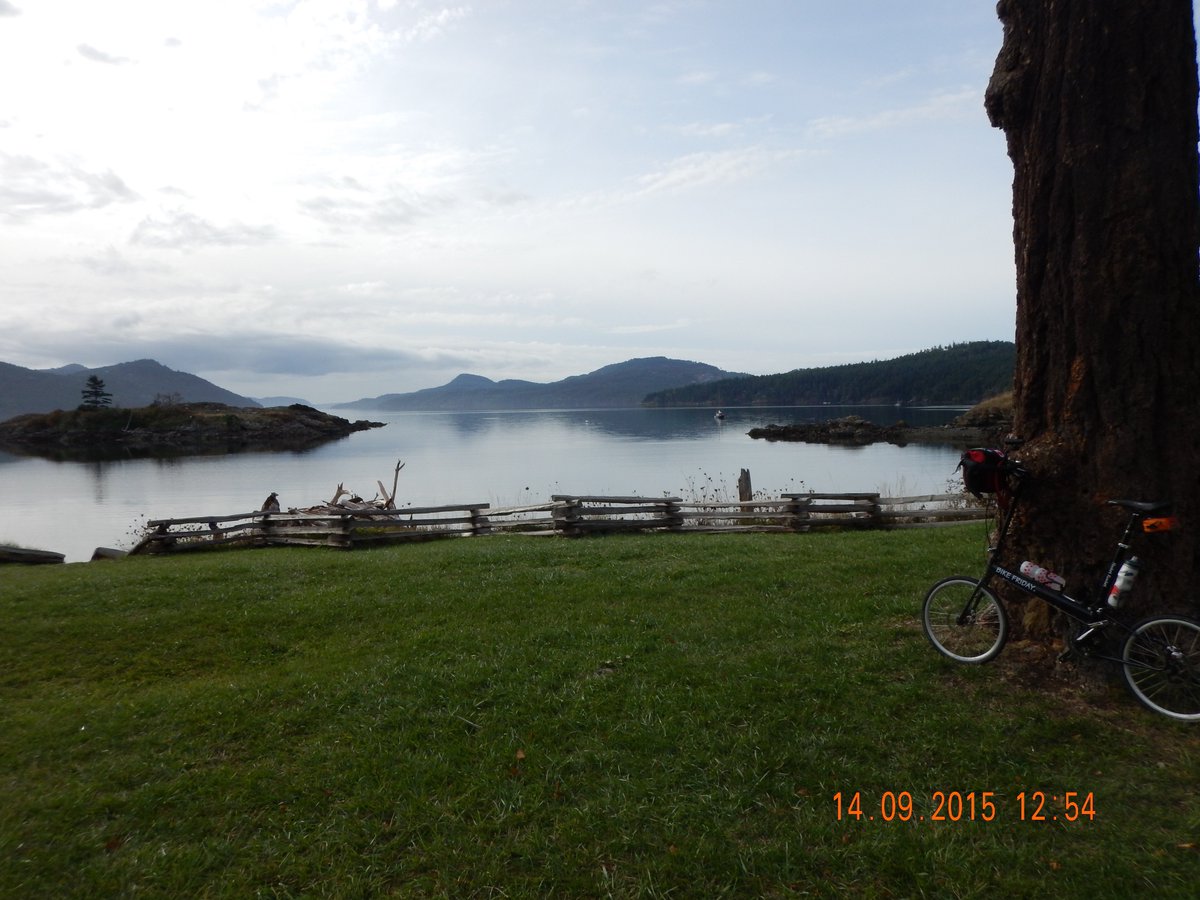 First destination on Orcas Island was Brown Bear Bakery for picnic lunch: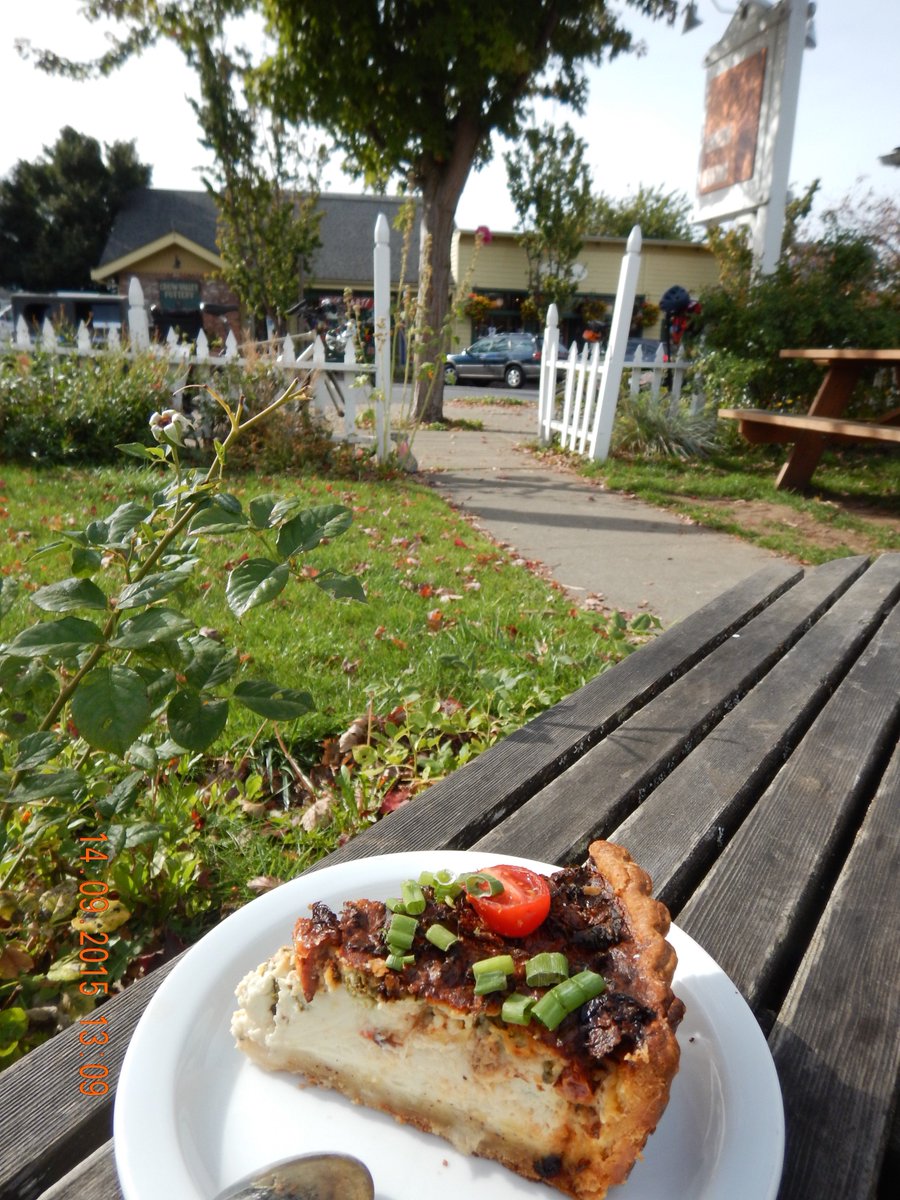 I made my way to Obstruction Pass State Park for a short hike along the water before the big steady climb to Mount Constitution: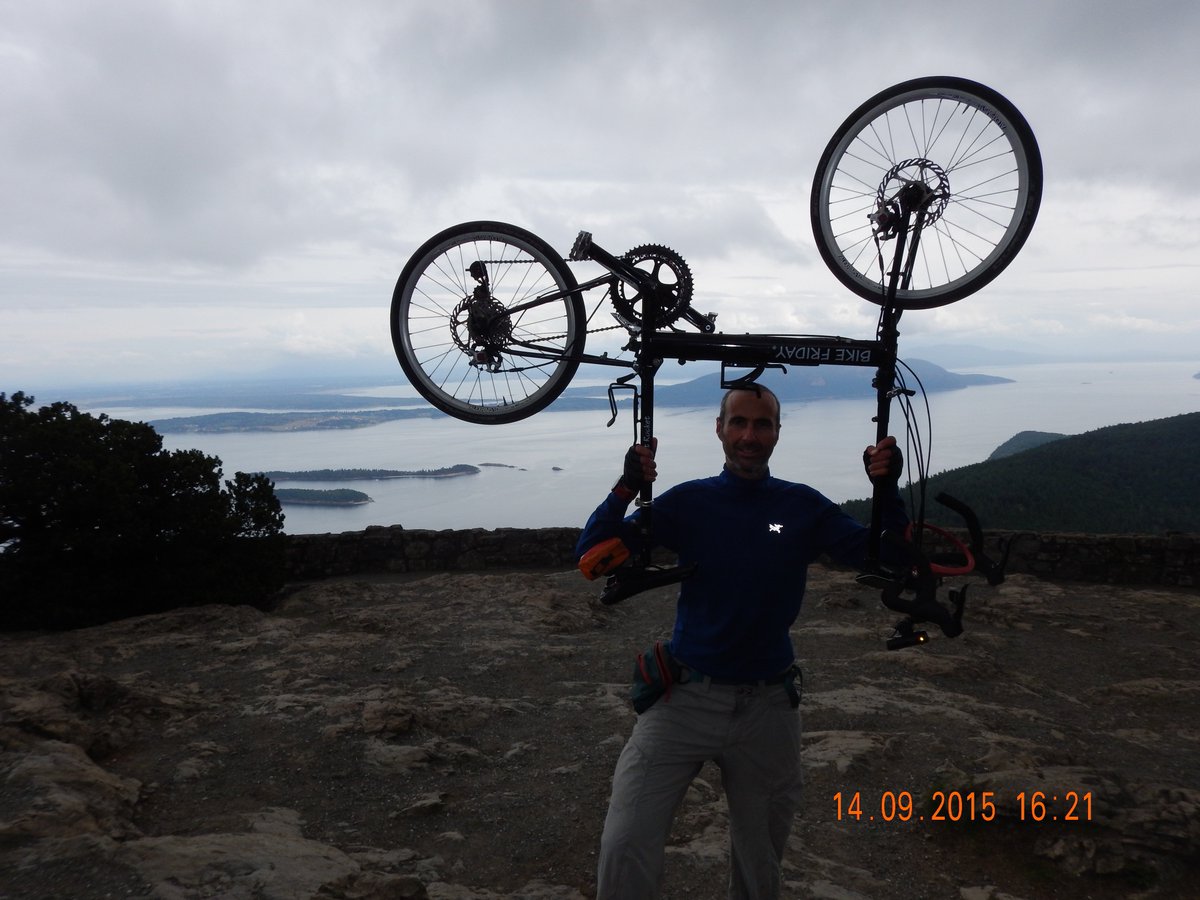 Luckily, I packed a picnic of olive bread & Tillamook habañero jack cheese to reward the effort: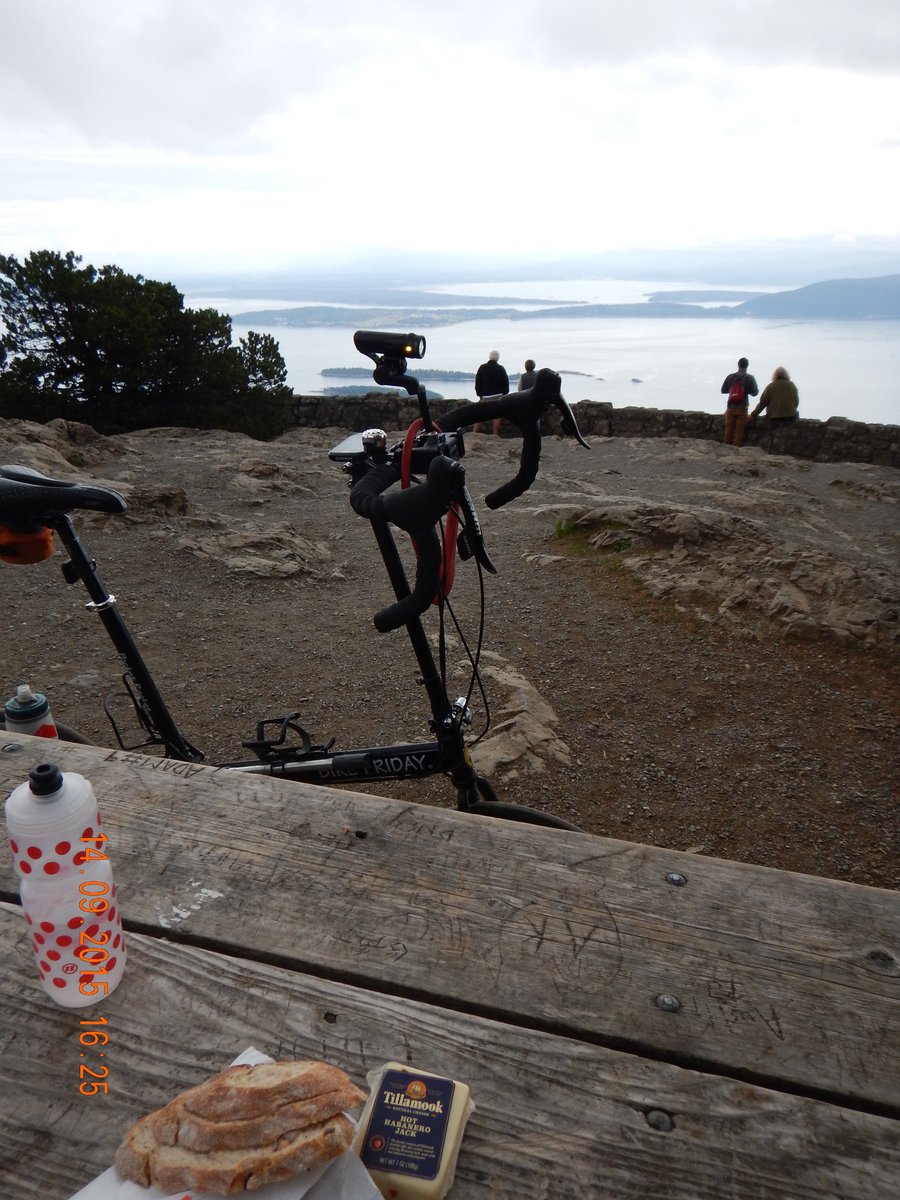 I stopped by the bakery again for another loaf of olive bread before a side trip to Deer Harbor & ferry back to Friday Harbor.
San Juan Island
Sun, ocean, & orcas while I circumnavigated the island. No ferry crossing.
There was no main food stop or bakery for the entire day though. I had to carry supplies from Friday Harbor.
The loop was counter-clockwise stopping at San Juan Islands Sculpture Park: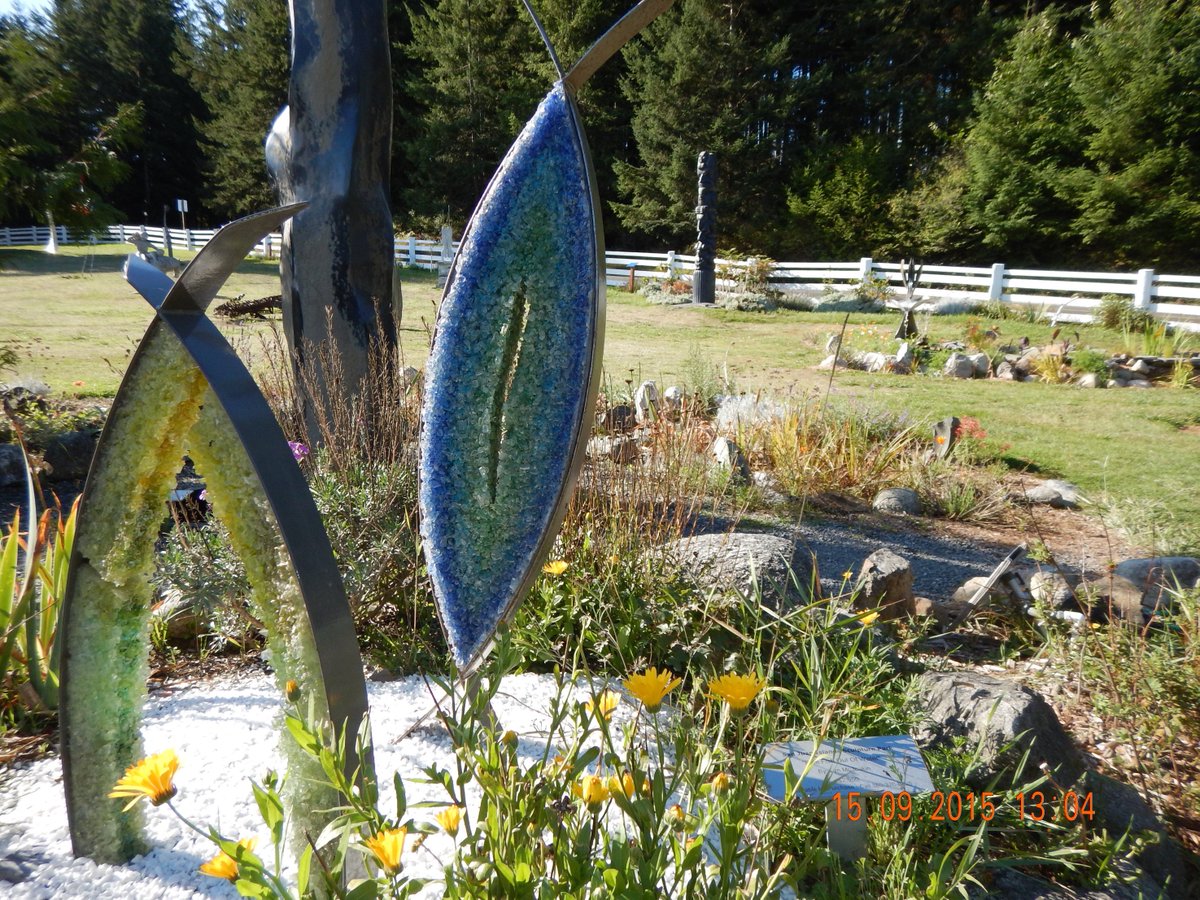 Visit to Roche Harbor was beautiful to see boats, historic buildings, shops, & flower garden.
San Juan Island National Historic Park is split into two parts. English Camp in the north: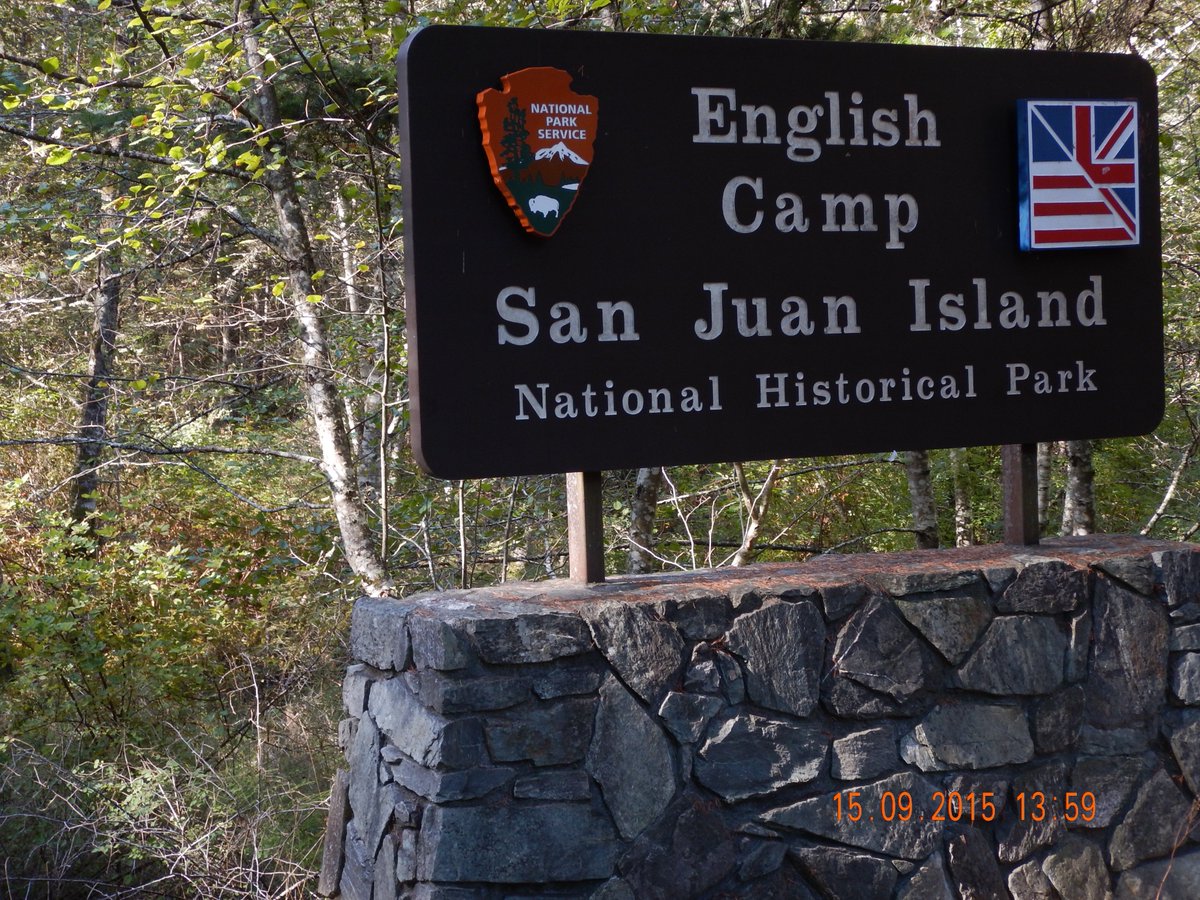 An American Camp in the south: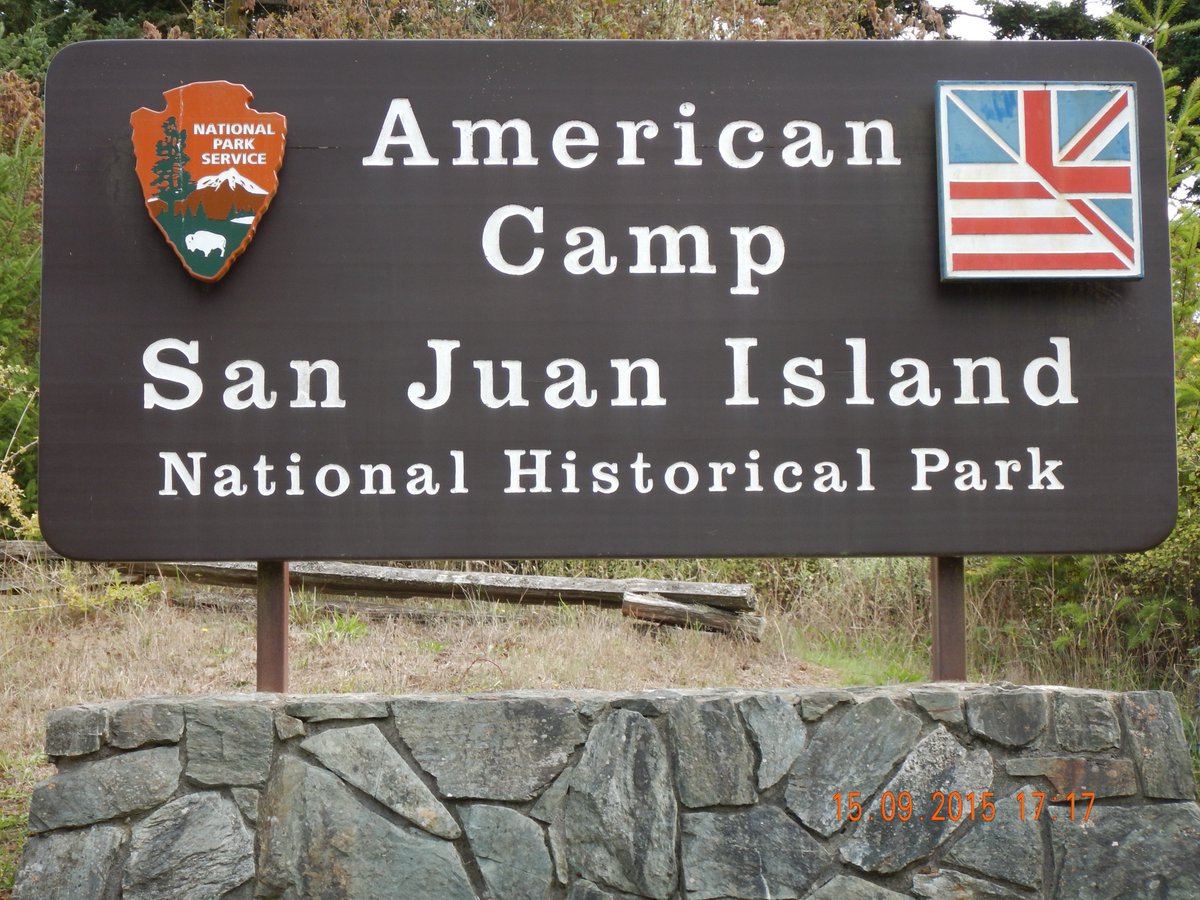 Camps were set up in 1859 as response to a border dispute triggered by the killing of a pig. The camps were occupied for 12 years, until the Treaty of Washington was signed. The Pig War was a bloodless conflict, no shots exchanged, & and no human casualties.
In between the two camps, I stopped at Lime Kiln Point state park & lighthouse to spot orcas: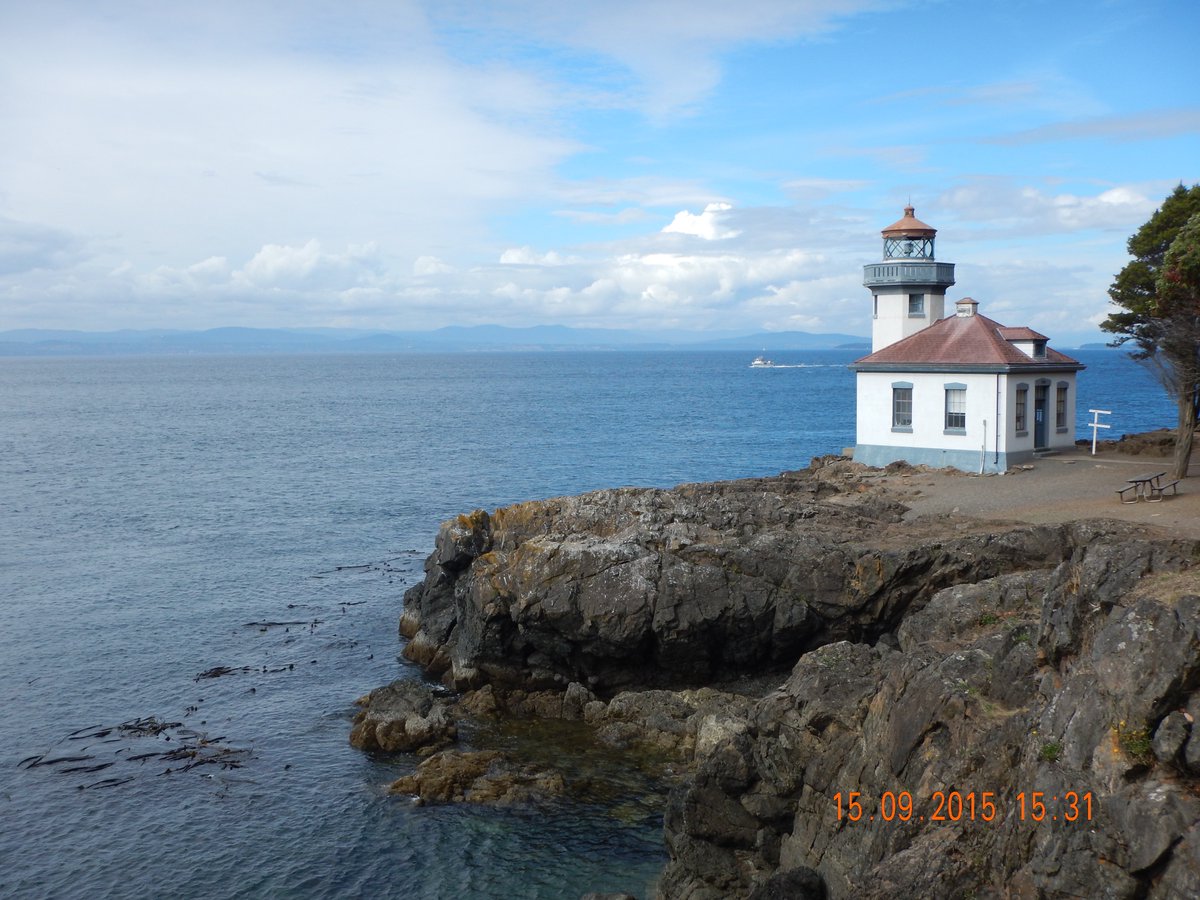 I did not spot any orcas there, although did shortly after.
Pelindaba lavender farm was a good stop for tea, chutney, & white chocolate: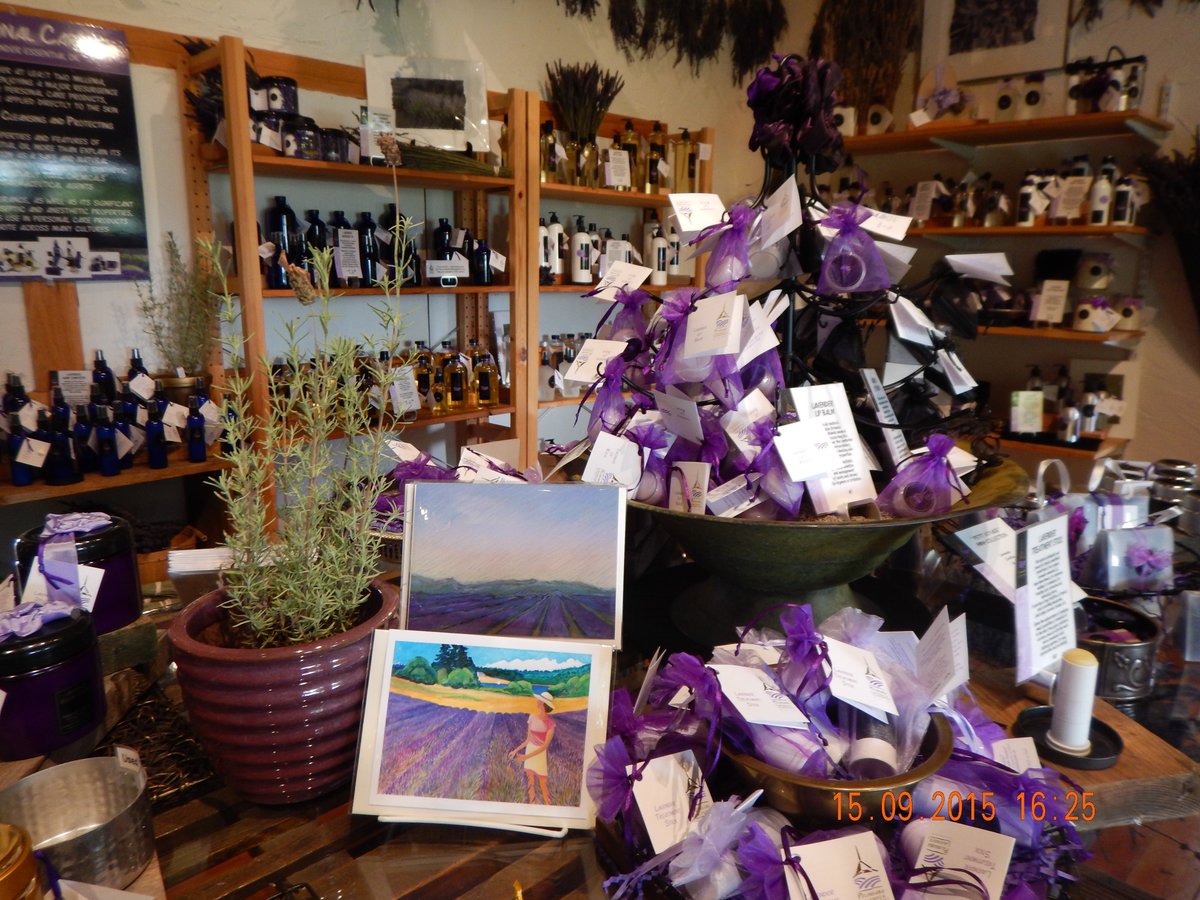 Beyond the American Camp was Cattle Point lighthouse. There was much road construction, closure, & paving. I hiked side trails to reach past construction area. The lighthouse itself was in disrepair. But scenery was very fine: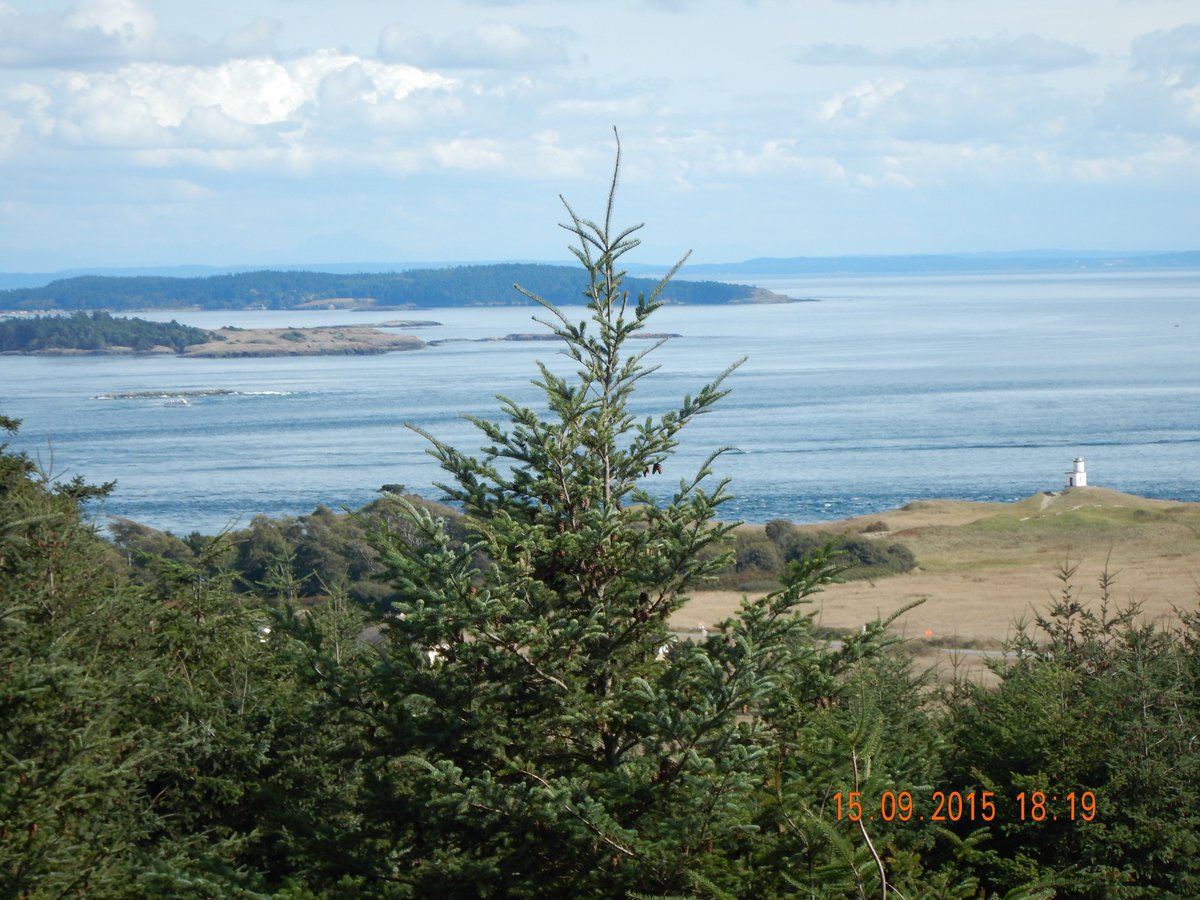 I had met again with the Adventure Cycling Association touring group & agreed to dine together that evening.
Lopez Island
While I did manage to spend the entire previous day without a bakery stop, I had to make this top priority for today at Holly B's for fresh Lopez pear hazelnut white chocolate danish: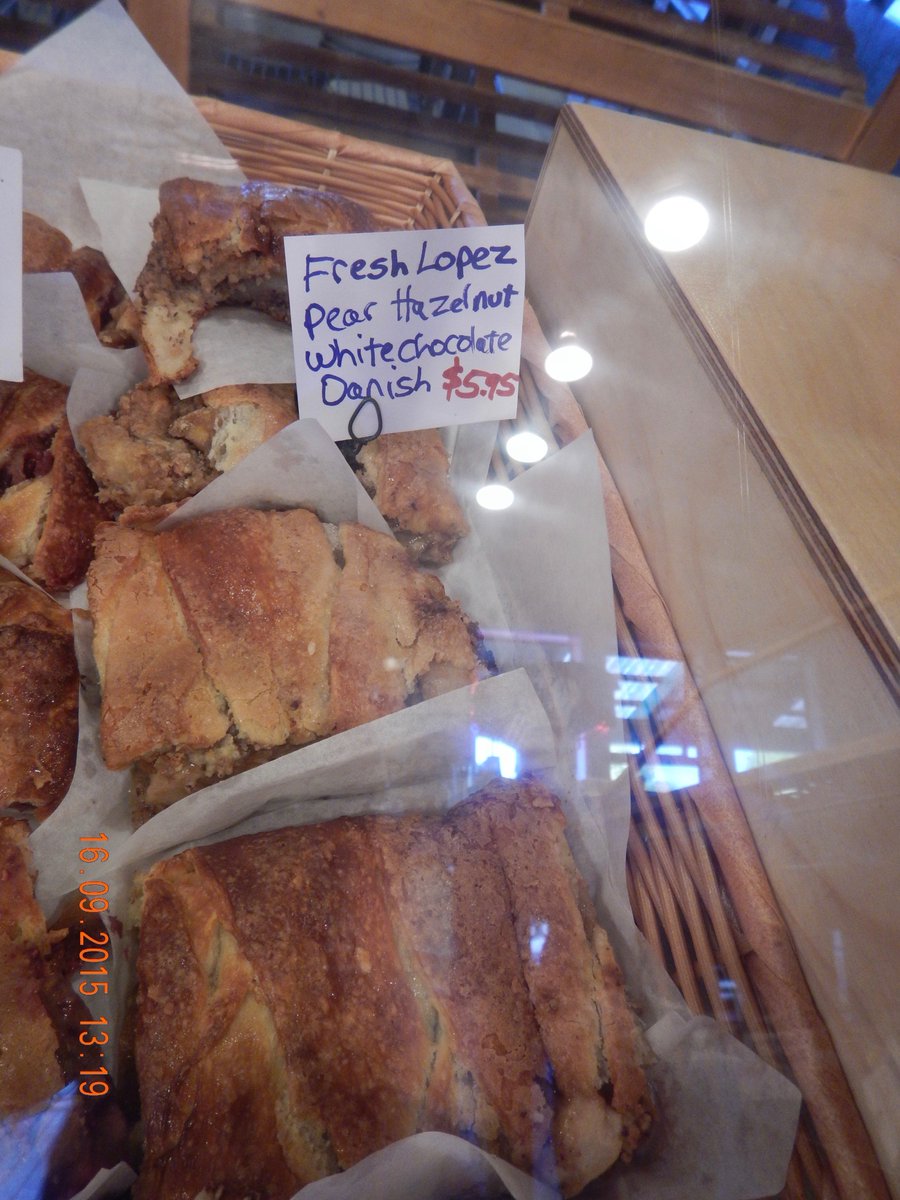 That was in addition to some bread for the road.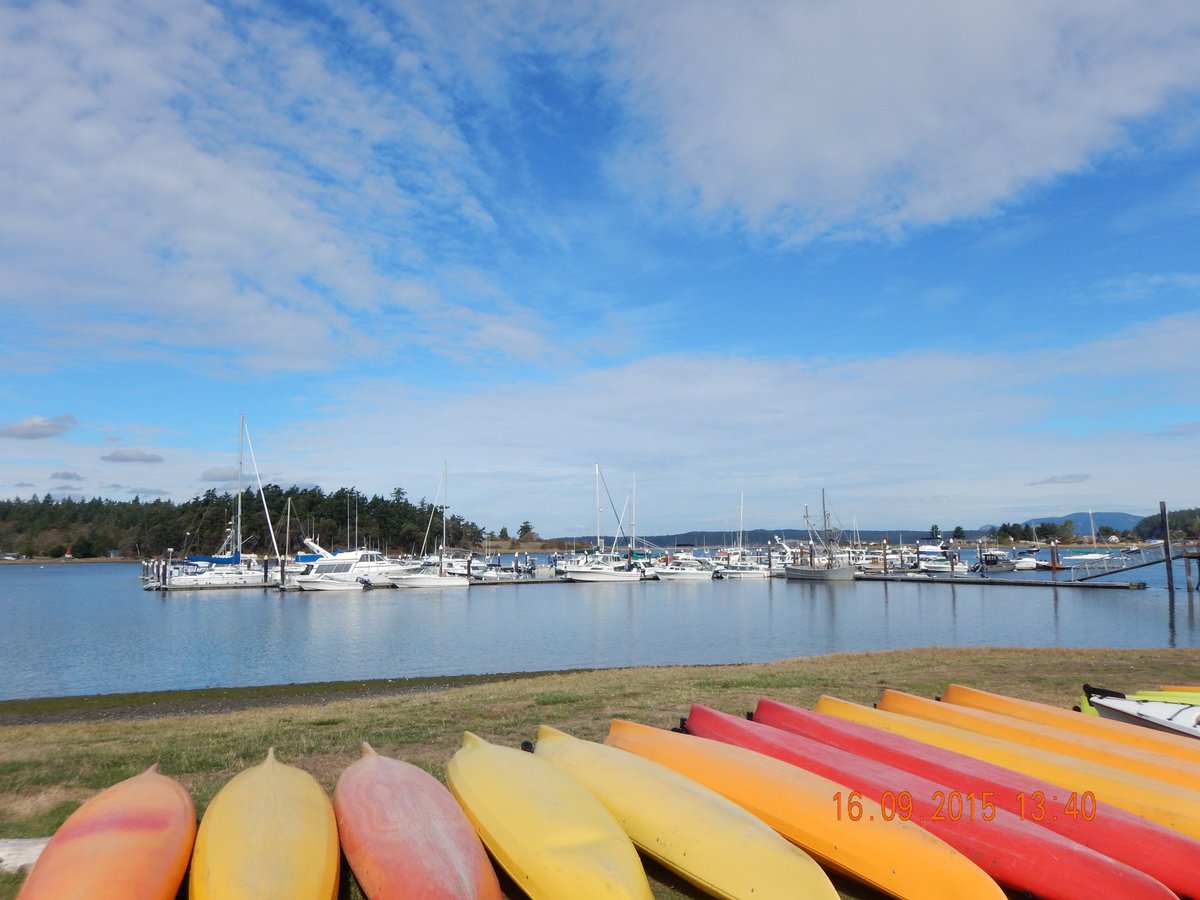 A short hike (lap 2) into Shark Reef Sanctuary opened up to another view of Cattle Point lighthouse: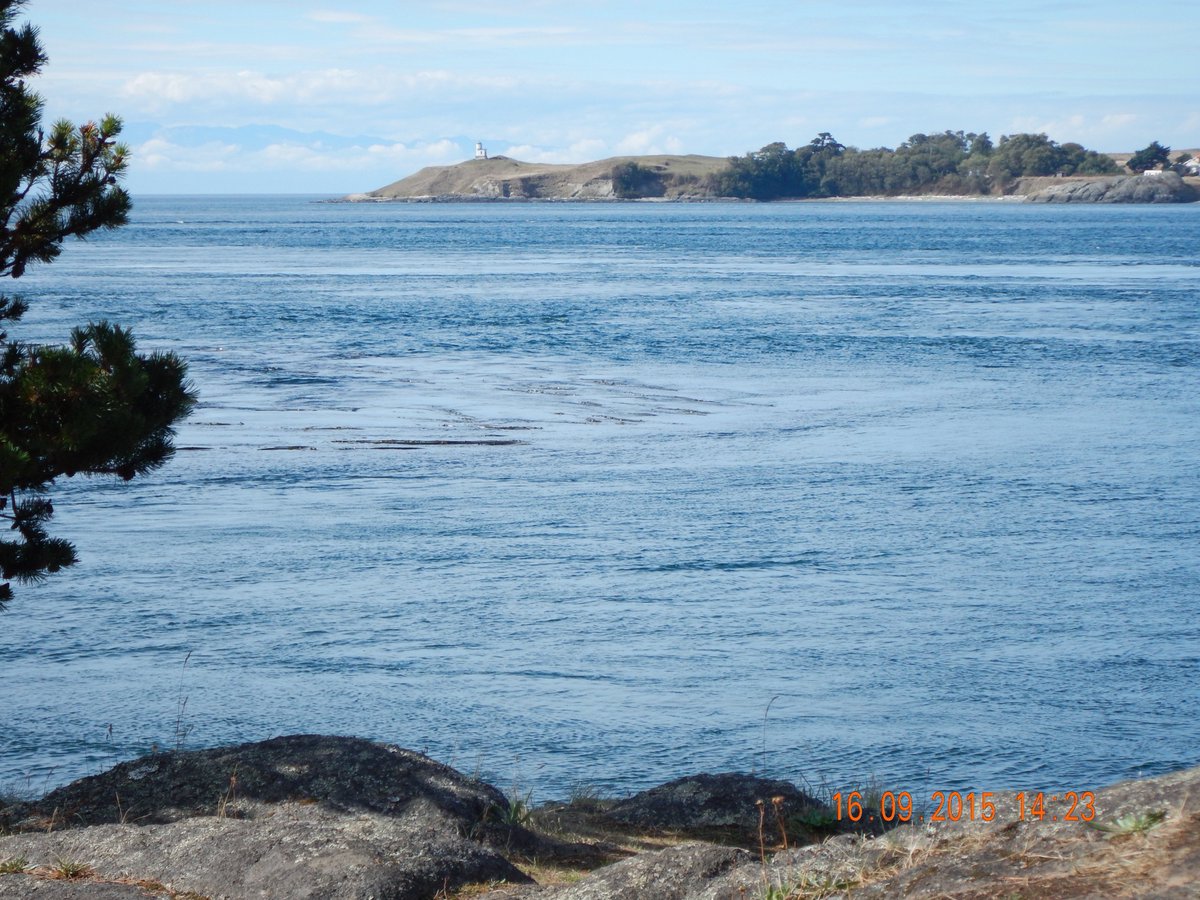 Far south on the island, I came to a quiet beach, clear water, & calm moment to bid farewell to the islands: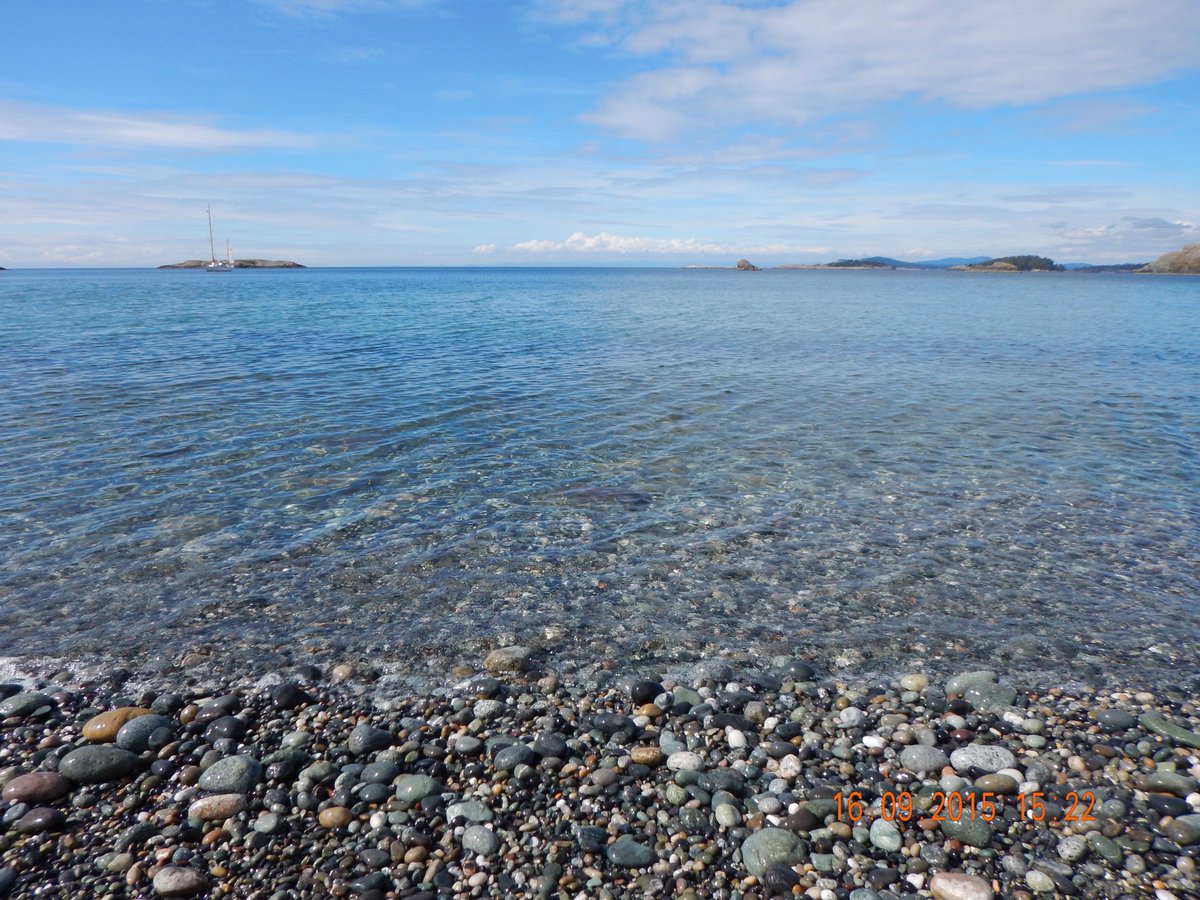 Last day on the San Juan islands before returning for more bakeries & island tours near Seattle. With additional time, I would have liked to cross the border into Victoria.
On the return trip to the ferry, I stopped at Spencer Spit State Park for a short hike along the beach.
Back on mainland, I stopped briefly for the customary wheel dip in Pacific Ocean at the starting point of Northern Tier route: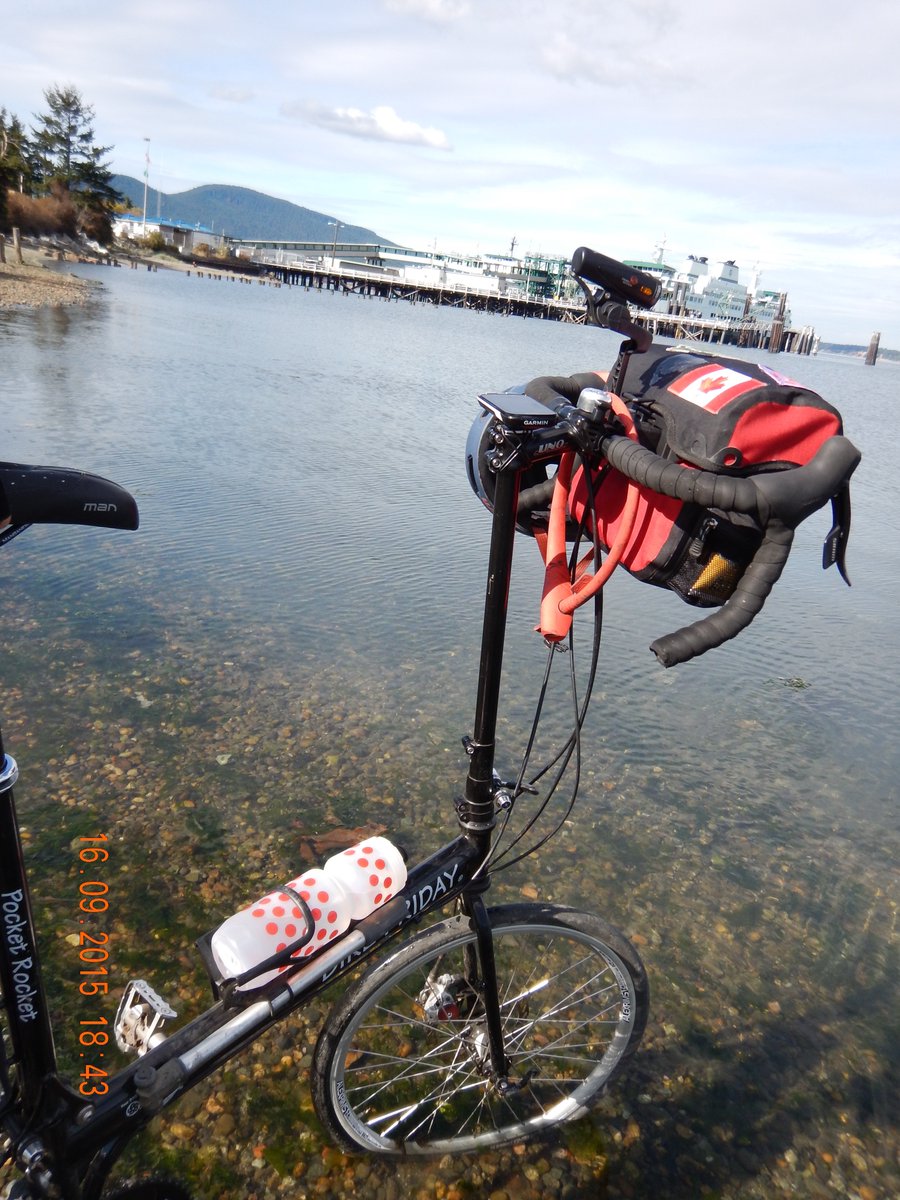 The route crosses the United States finishing in Bar Harbor. I had bicycled the New England part of Northern Tier back in 2014, with a wheel dip at the end.
I regularly shop for SeaBear salmon from REI. This was my chance to stop at the flagship store for a view of their entire product line: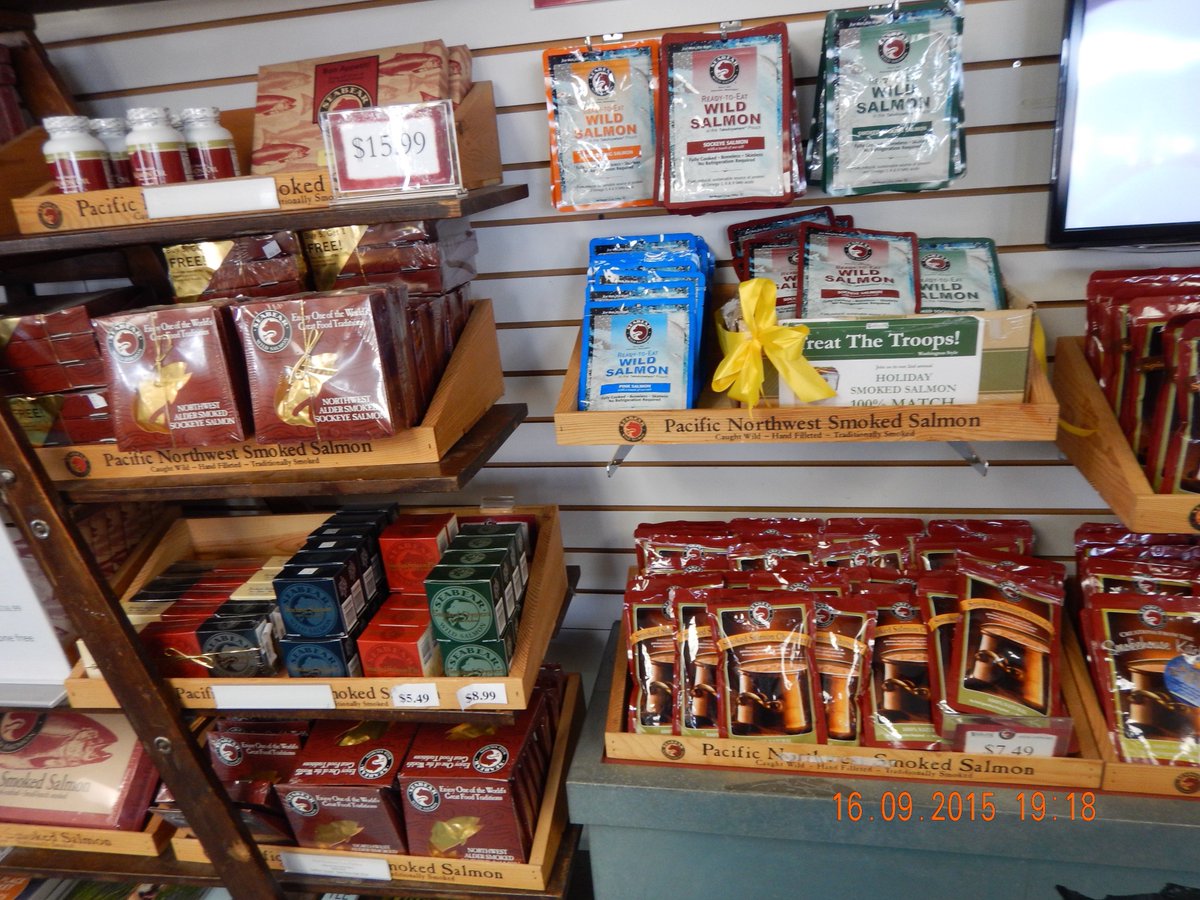 From there, I proceeded on some trails & busy roads to reach Amtrak station in Mt Vernon for my return trip to Seattle.
Lake Washington
I spent the previous day resting & walking around downtown Seattle, of course with a stop at Three Girls Bakery.
It was time for a tour of neighborhoods around Seattle with visits to some favorites, including:
Fremont district
University of Washington
Mountaineers office & bookstore
Columbia Crest & Chateau St Michelle wineries
Redmond town center
Casa D's Taqueria
Mercer Way bicycle route on Mercer Island
Extended stop was at Bellevue Public Library: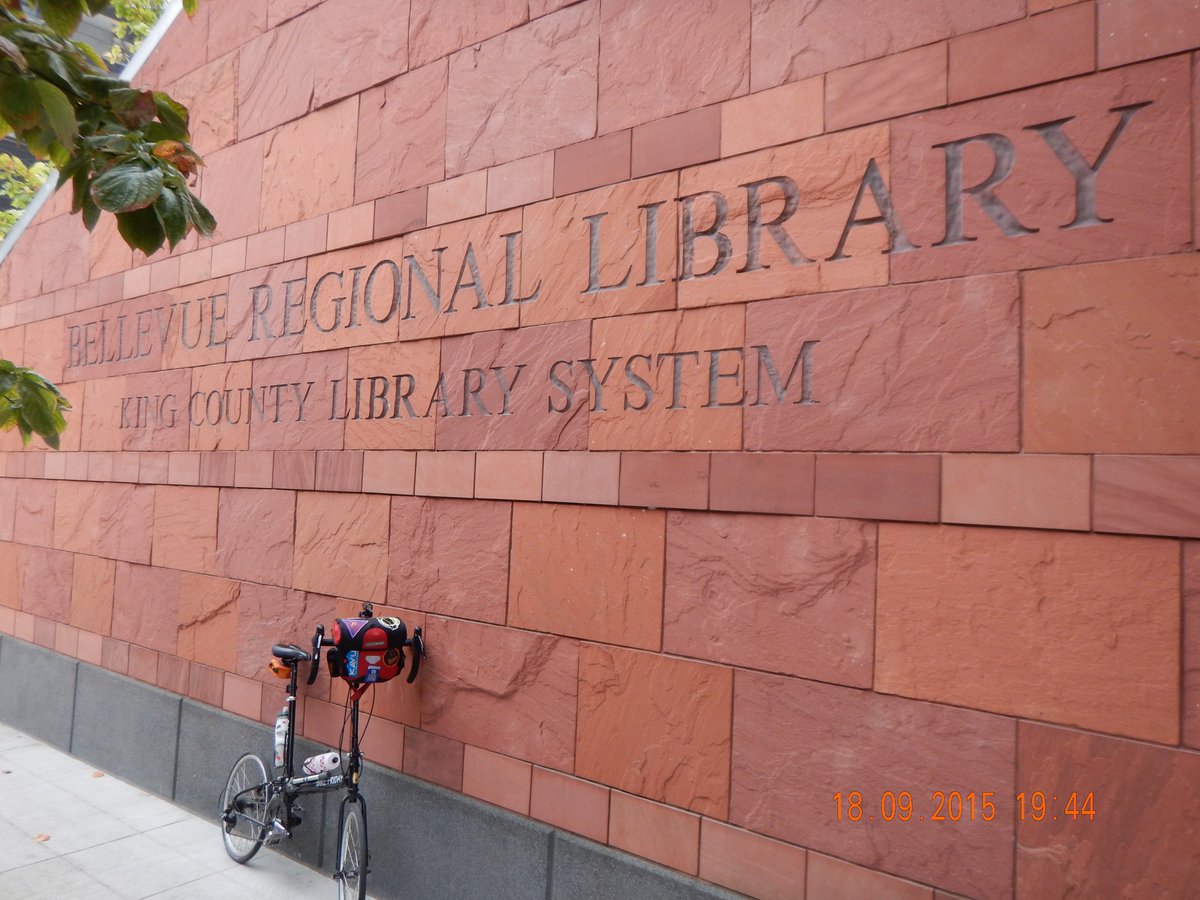 Bremerton
A tour along Alki beach in West Seattle & Kitsap county.
The first part (lap 1) along Alki beach was most scenic. Otherwise, across Puget Sound was windy & mostly on busy roads. Worse, Larry & Krisi's bakery was closed.
At least the sunset on ferry return trip was beautiful: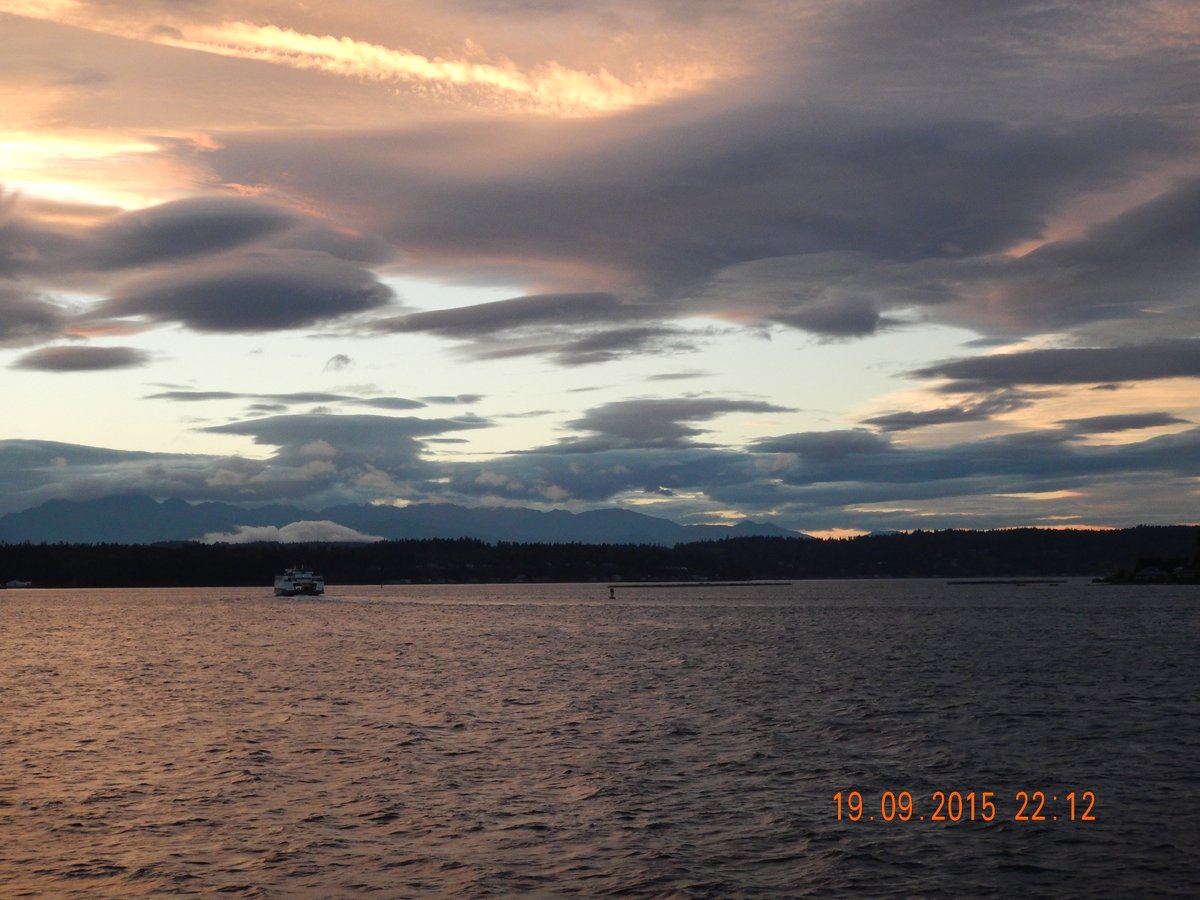 Bainbridge
Three bakeries in one day.
Started in Bremerton on much better roads than from the previous day toward small town of Poulsbo: small shops, bookstore, & Sluys' Poulsbo Bakery: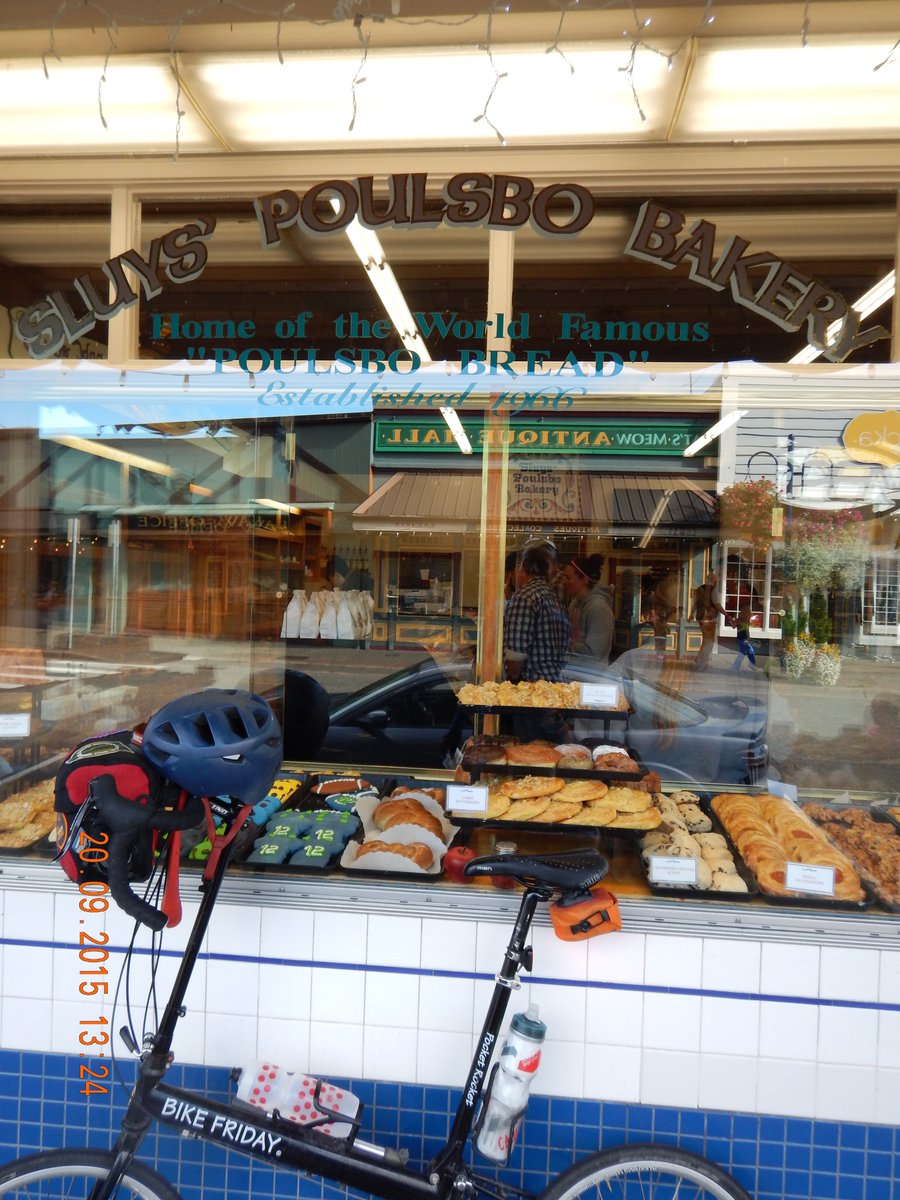 More quiet roads & water views toward Pane d'Amore bakery: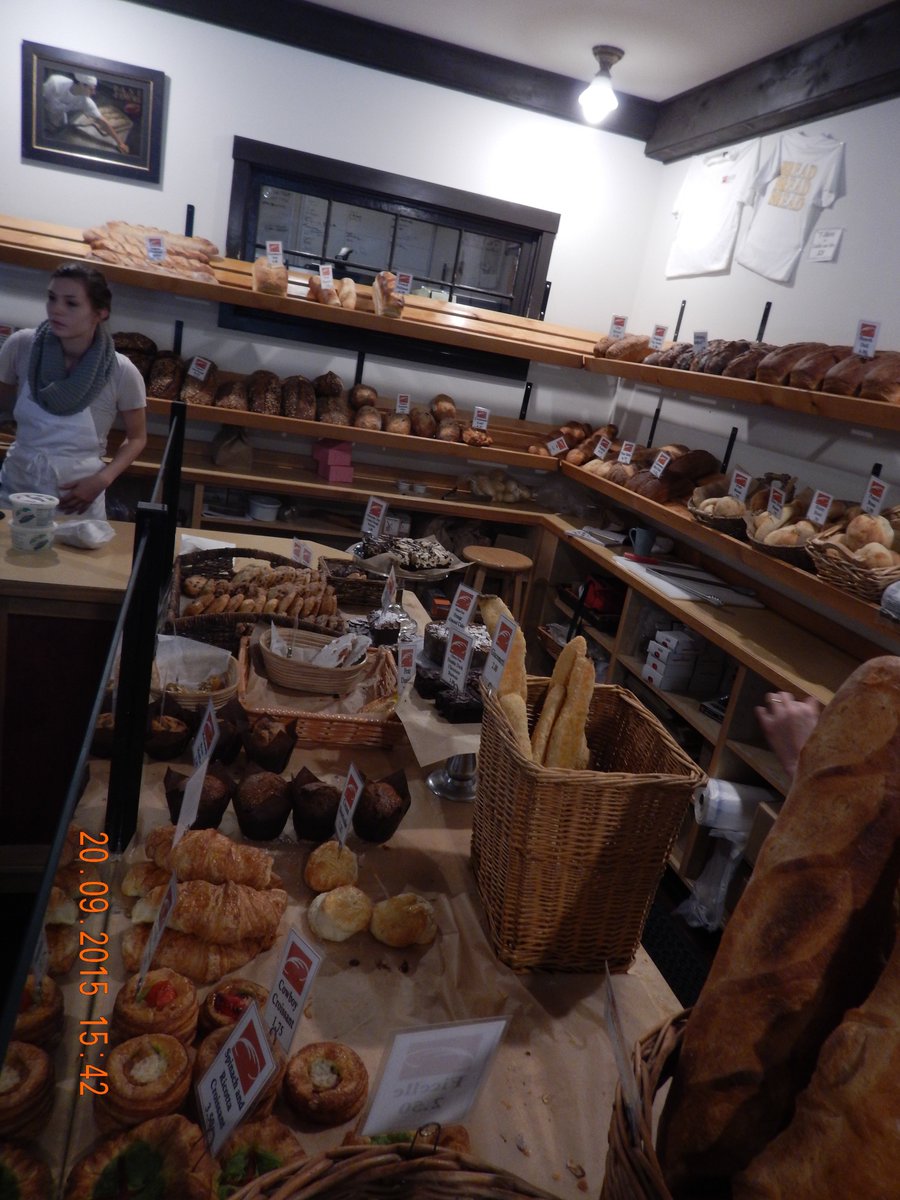 Most difficult choices were at Blackbird Bakery: granola, bread, pastries, & pizza: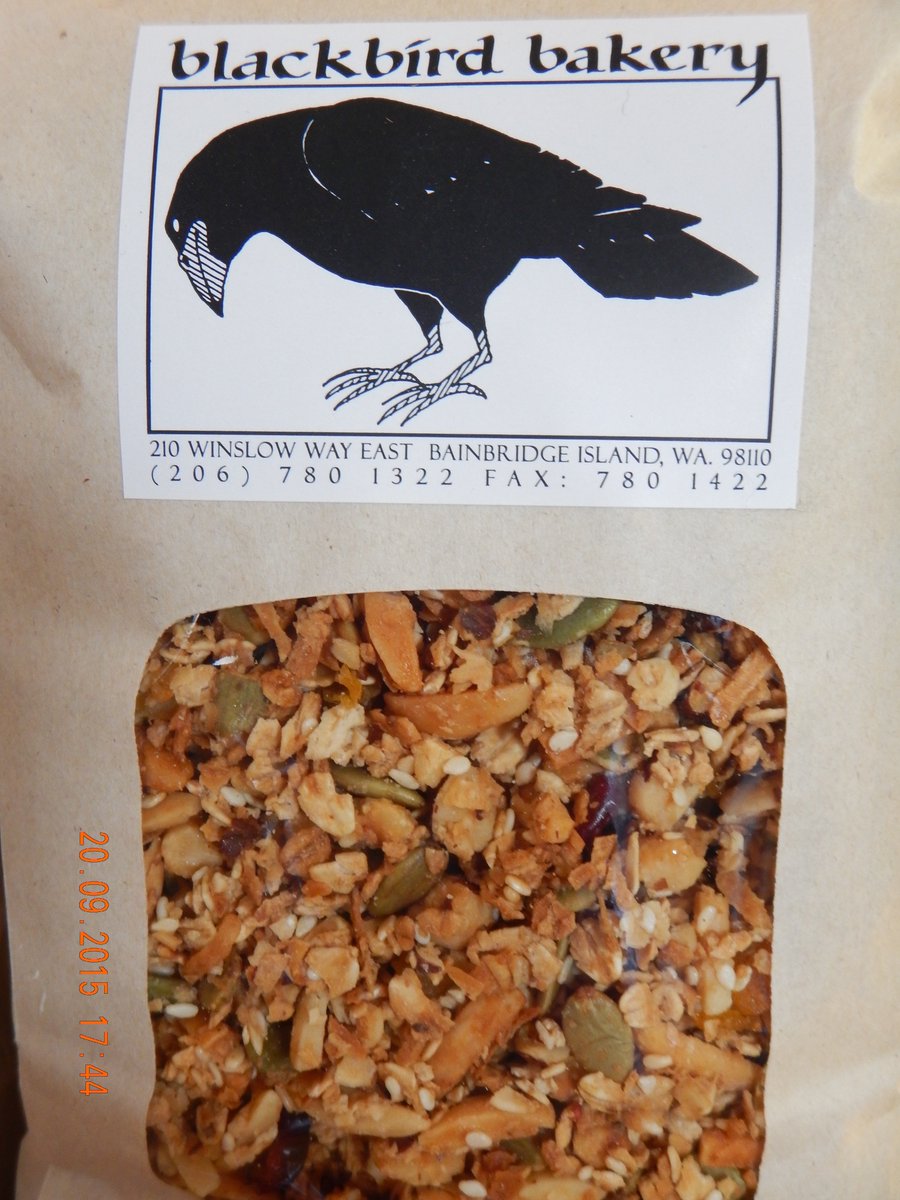 Three amazing bakeries. No better way to spend last day in Seattle: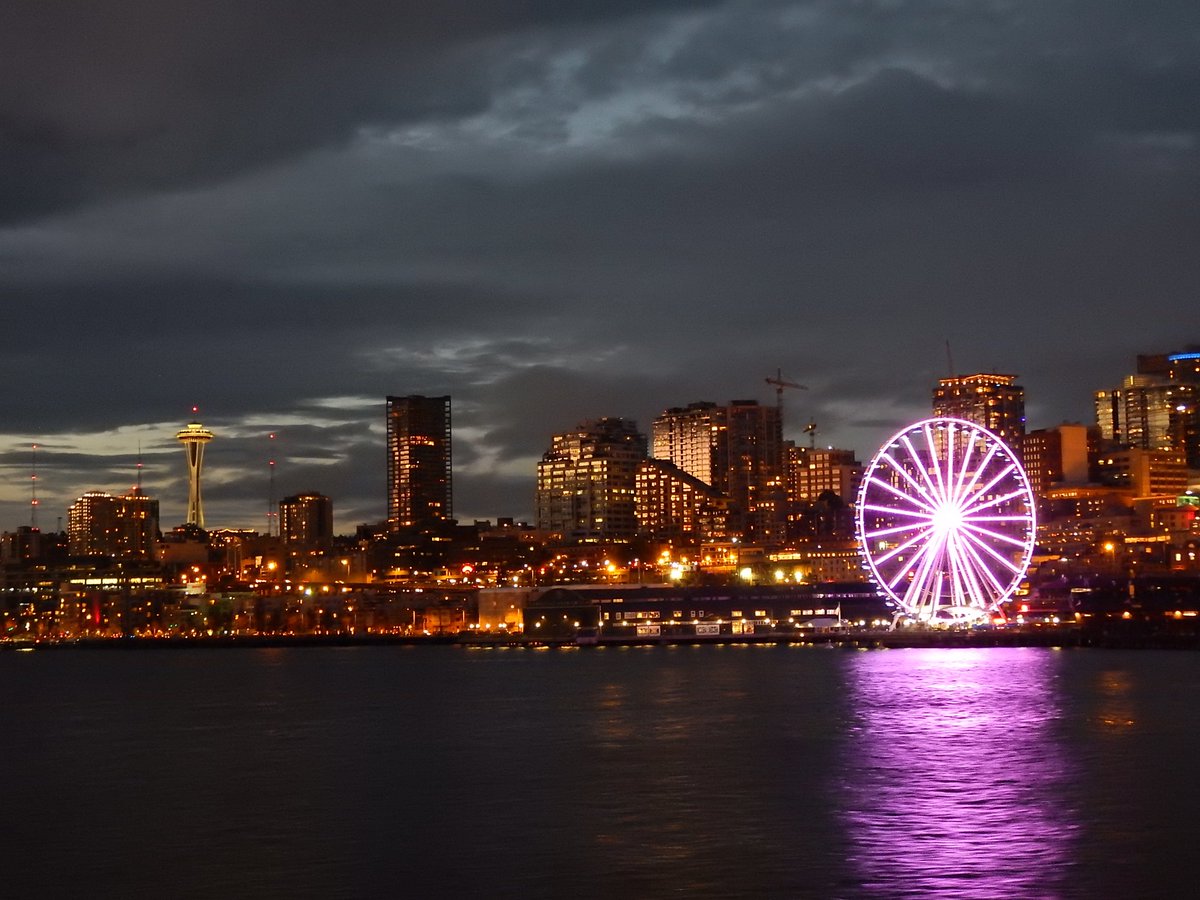 Itinerary
Route
Log
Food Co-op
Wayfarer's Rest hostel

Sunday 13 September 2015 7:56 Seattle to Friday Harbor on San Juan Island

Map:

➡️distance including ferry: 207.04km ⏩speed 15.2km/h
🔄duration 13h:36m:02s
⬆️ascent 1,989m
📶temperature 14.8ºC
⏬download GPX & KML

Monday 8:22 Orcas Island

Map:
➡️115.21km
⏩13.2km/h
🔄8:44:14
⬆️1,848m
📶12.0ºC
⏬GPX & KML

Tuesday 9:04 San Juan Island

Map:
➡️86.13km
⏩11.3km/h
🔄7:37:20
⬆️1,179m
📶15.3ºC
⏬GPX & KML

Wednesday 9:50 Lopez Island

Map:
➡️57.74km
⏩12.4km/h
🔄4:38:49
⬆️711m
📶17.0ºC
⏬GPX & KML
Walk around town, rest, & clean
Thursday Seattle
Fremont district
University of Washington
Mountaineers office & bookstore
Columbia Crest & Chateau St Michelle wineries
Redmond town center
Casa D's Taqueria
Mercer Way bicycle route on Mercer Island

Friday 10:31 Lake Washington

Map:
➡️100.02km
⏩13.2km/h
🔄7:36:23
⬆️694m
📶17.8ºC
⏬GPX & KML
Alki beach
Larry & Kristi's bakery

Saturday 12:07 Bremerton

Map:
➡️125.53km
⏩16.1km/h
🔄7:47:51
⬆️772m
📶18.2ºC
⏬GPX & KML

Sunday 20 September 2019 07:36 Bainbridge Island

Map:
➡️116.94km
⏩13.4km/h
🔄8:45:20
⬆️1,117m
📶18.7ºC
⏬GPX & KML
Guide