Beat the Train
This trip was not to take pictures, admire scenery, & smell flowers. It was about one goal only: arrive Portland before train departed at 18:55.
Day Trip Report: 4 July 2018
I had bicycled this route twice with both of my young sons over two days & three days. Now the challenge was to complete it in one day: bicycle 150km in 8 hours or overall average of 19km/h.
​ I was on a short trip back from Hong Kong with at least three adventures in mind:
Beat the Ferry: a twist on Cape in a Day with a new route, trails, coastal views, bakeries, & a challenge.
Beat the Train: this trip.
Hut Traverse: hike all eight AMC high huts in the White Mountains.
All in one week.
Route
Followed the East Coast Greenway from Newburyport along the coast with most beautiful views to Portsmouth. Continued along the coast to York, Nubble light house, until Wells. We were two-thirds of the way.
The remaining stretch was mostly on trails—hard packed gravel trails. Services were rare all the way to Portland for plenty of choices for dinner, meat, & bear ahead of boarding the train.
We met in Boston North station to roll bicycles on board MBTA train at 9:30 to Newburyport arriving at 10:34. We ate breakfast on the train, got bicycles ready, & started at 10:42.
We kept a comfortable pace. This was going to be a long day. It was about endurance. We compensated for speed by taking very short fast breaks. There was no need to sprint, push hard, or keep sustained high effort. Except all the way at the end, for the final 20km. Ben & I sprinted ahead for an opportunity to meet his friends, drink beer, & feast on meat at Salvage BBQ.
We loaded bicycles without any changes or disassembly onto bicycle car. Amtrak train left at 18:55 arriving in Boston at 21:25:
Booking train ticket was mandatory in advance of starting on the ride. Train has limited space for bicycles.
Bail out points included:
Concord Coachlines bus from Portland offered late trip at 19:45. Their policy is friendly to bicycles, allowing drivers to load them in empty luggage compartment.
Taxi, Uber, & Lyft.
Hotels & motels to spend the night in Portland.
We arrived in time for music from Boston Pops & Fourth of July fireworks.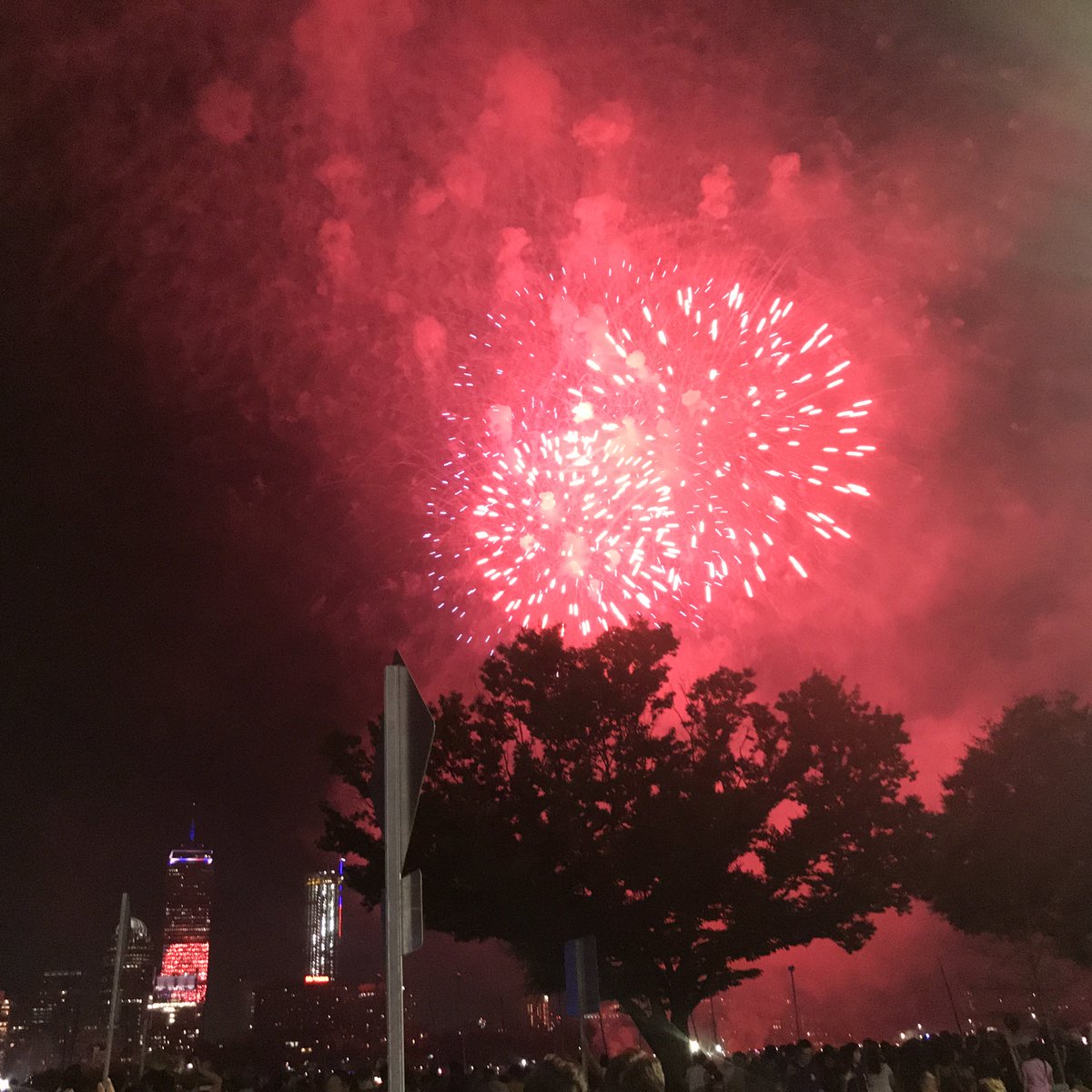 Food
There were many options on route for bakeries, ice cream, & convenience stores along the way. They were very quick stops for: orange juice, protein shake, V8, chocolate milk, & energy bars.
We relied mostly on drinks to replenish both liquid & calories. I swallowed 8 electrolyte capsules.
Stops were:
Cumberland Farms just before Portsmouth at 42km: the "new concept" stores are excellent bicycle quick stops, with plenty of options for drinks, soda fountain, energy bars, nuts, pickles, & sandwiches.
Dunne's ice cream at 68km: it was hard to resist the stop for kahlúa fudge brownie, but we should have skipped it. It was a long stop there. Waiting for Cumberland Farms in Wells would have been a better choice.
Bread & Roses bakery at 80km: Fourth of July cup cakes.
Hannaford supermarket at 123km: multiple bottles of juice & water.
Salvage BBQ in Portland, near train station, at 150km: meat & bear.
Route Log
Recorded with Suunto Spartan Ultra & Wahoo ELEMNT with aerial view. Log below is from Suunto watch:
➡️ distance 152.49km
⏩ speed 19.1km/h
🔄 duration 7:58'24.3
⬆️ ascent 591m
⬇️ descent 571m
*️⃣ calories 3,415
↗️ grade 4m/km
Packing List
Handlebar bag to carry light jacket, gear, snacks, USB battery, lights, & hydration tablets.